The Spice Girls
Let's start with some, er, music. Please, listen to the first few seconds only…
I'll tell you what I want, what I really really want. I want to do a programme about The Spice Girls.
You should know that before I started researching this programme I knew virtually nothing about The Spice Girls. Now, I know just a little bit more – but, you may be glad to know, not much more. The group was formed in 1996 and the music you just heard, Wannabe, went to No. 1 in the pop charts in 37 countries. The group espoused 'Girl Power', a brilliant marketing ploy devised by the girls' mentor, Simon Fuller. It chimes perfectly with the spirit of the times: do you remember Cool Britannia?
So let's start with Scary Spice, Melanie Brown, who Wikipedia tells me is an English singer-songwriter, rapper, producer, model, television personality and author. She was born in 1975 and was given the nickname Scary by a journalist at a photoshoot because she was so loud and tried to dominate proceedings. "I'm very kind of in-your-face", she once acknowledged. Kind of.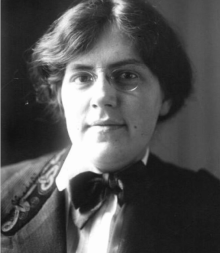 You may be relieved to know that I was wondering if there was a classical music equivalent to Scary Spice. I think it might be Nadia Boulanger.
Born in 1887, she was a French composer, conductor and teacher who taught many of the leading composers of the 20th century. Aaron Copland, John Elliot Gardiner, Daniel Barenboim, Philip Glass, Astor Piazolla were all her students.
And like Scary Spice, she was no shrinking violet. She was a fierce, uncompromising and forceful woman. Scary.
Here's a story about her. When Philip Glass met Nadia Boulanger, in 1964, she was something of a throw-back to another age: "a tough, aristocratic Frenchwoman", Glass remembered, "elegantly dressed in fashions 50 years out of date."
Sitting in her apartment on the rue Ballu, Boulanger made her new student squirm, silently leafing through the scores he had brought. Finally, she pointed to a single bar: "There," she said. "This was written by a real composer." As Glass ruefully recalled: "That was the first and last time she said anything nice to me for the next two years."
Boulanger cultivated the image of "Herr Professor". Her biographer called her a Tender Tyrant, though many composers under her wing wouldn't recognise the tender bit.
But as a composer, well, how's this for tender? Here's a beautiful song for soprano, harp, violin and cello.
That was Lux Aeterna, Eternal Light, which Nadia Boulanger wrote in 1918; eternal light at the end of the First World War.
I'll tell you more about Nadia Boulanger later, but next I want to talk about Baby Spice Emma Bunton, who was born in 1976 and who was given her nickname because she was thought to be cute and adorable. It may also have had something to do with her size: she's 5ft 1in.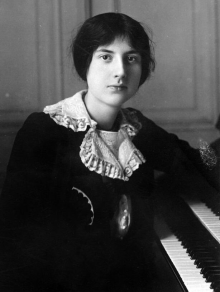 She has Baby Spice tattooed on her backside. I doubt very much if my Baby Spice of the classical music world had a tattoo anywhere, far less her bottom. She's Lili Boulanger, was Nadia's little sister, and she's my Baby Spice because, well, she was a child prodigy. Gabriel Faure discovered that she had perfect pitch at the age of two – only one in 10,000 people can identify or re-create a given note without any reference tone – and she was musically-speaking, still a baby when she died at the age of 24. However, her sister Nadia, who was six years older, lived into her 90s.
Lili could play, and play well, the piano, harp, violin, cello and organ. Oh, and she could sing. She could also write music like these two pieces…
That was Lili Boulanger's 2 Pieces for Violin and Piano, Nocturne and Cortege, which she wrote in 1911 when she was 19. At that age, Lili – whose actual name was Marie-Juliette Olga - made history as the first female to win the prestigious Grand Prix de Rome for a 30-minute cantata, a full orchestral work called Faust et Helene. It sounds like it might have been written by Wagner after he listened to Debussy.
By the way, her father Ernest won the Prix de Rome in 1835. Lili's sister Nadia tried twice, and failed both times, to win the prize. Ernest was an interesting character. He was in his 60s and a teacher at the Paris conservatoire when he married one of his pupils, a 19-year-old Russian princess. He was 77 when Lili was born.
Lili loved to travel and completed several works in Italy after winning the Prix de Rome. But her failing health forced her to return home, where she and her sister organised efforts to support French soldiers during World War I.
She suffered from chronic illness throughout her life. She had bronchial pneumonia at age two that weakened her immune system, leading to the "intestinal tuberculosis", now known to be Crohn's Disease, that ended her life at the age of 24.
I'm pleased again to do a programme about women composers. It also gives me a chance to play music from different ages. And next up is some Baroque music.
So, let's look at Ginger Spice, Geri Halliwell, who was born in 1972 to a Spanish mother and a father of Finnish descent. Her classical music equivalent, though, is this lady, an Italian.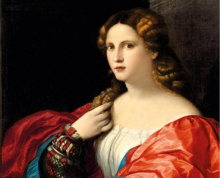 I can assure you that, despite some images of her that I've seen, Francesca Caccini had flame-red hair. She was a gifted poet, singer, lute player and composer. She wrote the oldest surviving opera by a woman, La Liberazioni de Ruggerio, which is also thought to be the first Italian opera performed outside Italy.
Caccini was from Florence and became a music teacher and best-paid musician in the Medici court. She is believed to have been a very quick and prolific composer, though very little of her work survives. Here is one piece that is still performed…
That was Francesca Caccini's Romanesca.
Melanie Chisholm comes next. She was called Sporty Spice because she liked wearing tracksuits and was thought of as something of a tomboy.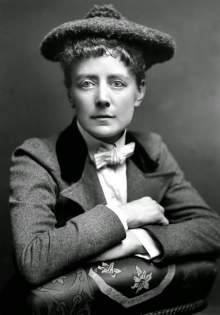 Our classical Sporty Spice is Dame Ethel Smyth, who was certainly sporty. Hers was an exciting and productive life in which she actively pursued her many talents and interests. In her youth, she was a keen horse-rider and tennis player. She enjoyed mountaineering and cycling. She was a very keen golfer and a member of the ladies' section of Woking Golf Club, near where she lived. After she died and was cremated, her ashes were, as she had requested, scattered in the woods neighbouring the club by her brother Bob.
She was also a leading and militant suffragette and was openly gay. I talked quite a bit about her when I last did a programme on music composers, and I'll say a wee bit more about her later, but let's hear some of her music.
This is the second movement of her Serenade in D Major.
Ethel Smyth wrote that piece, which was premiered in the Crystal Palace of all places, in 1890. She was 32 at the time and it was her first orchestral work.
I want now to return to Scary Spice, sorry Nadia Boulanger, who has been described as "the most influential teacher since Socrates".
Composers would subject themselves to Boulanger's harsh discipline as a "rite of passage," visiting her in her Paris apartment where she did most of her teaching. She also made her way through leading conservatoires, including the Juilliard School, the Yehudi Menuhin School, the Royal College of Music and the Royal Academy of Music."
Here are her 3 Pieces for Cello and Piano, written in 1914.
I was prompted to do a programme on The Spice Girls because, as you may know, they recently reunited and did a nationwide concert tour, apparently to rave reviews.
However, one of the five Spice Girls was missing. Victoria Beckham, Posh Spice, opted out – she could afford to. And so she gets short shift from me. I'm going to give her classical music equivalent only a few minutes to show us what she could do.
Our classical Posh Spice is just about the poshest female composer of any note I could find – a princess, no less.
Anna Amalia, Princess of Prussia, was one of 10 surviving children of King Frederick William 1 of Prussia and Sophea Dorothea of Hanover.
She lived from 1723-1787 and her formal musical instruction was only possible after the death of her music-hating father. Music was her secret consolation against his cruelty to her (he would often drag her across a room by the hair during his rages). Anna Amalia learned to play the harpsichord, flute and violin.
She became an abbess and thus a wealthy woman and she chose to spend most of her time in Berlin, devoting herself to music.
She took lessons from a student of JS Bach and she collected a vast library of work by Bach, Handel, Telemann and others.
First, then, you will hear the opening movement of her Sonata for Oboe and Organ, followed by the third movement of her slightly better-known Flute Sonata.
I would now like you to hear a pair of pieces by our Baby Spice, Lili Boulanger.
In 1917, Lili made her way home to Paris to prepare for the end of her life; she had known for some time she was dying. Resolutely, she completed one stunning work in progress after another.
Among the last of these were two instrumental sister pieces, Of a Spring Morning and Of a Sad Evening. They were completed in 1918 just a few months before she died. In fact, they were the last pieces she was able to write without any help. Actually, her sister Nadia did some tidying up work on the scores, so weak was Lili's notation.
D'un matin de printemps, Of a Spring Morning, is all lightness and banter, with dancing energy – it's almost spritely. Let's hear it…
If that piece is all vivacity and subtlety, then its partner D'un soir triste, Of a Sad Evening, is dark and enigmatic, full of the sorrows of the world. As a piece of orchestral scoring, it's been likened to Debussy's La Mer and Ravel's Sheherezade.
Let's go back to Sporty Spice, Ethyl Smyth, now. She was actually quite posh, like Anna Amalia, her father being a brigadier in the British Army. Her actual birthday was 22nd April, but she always celebrated it a day later, because 23rd was Shakespeare's birthday.
She first studied music privately as a teenager. After a major battle with her father about her following a career in music she studied at Leipzig Conservatory, where she met Tchaikovsky, Brahms, Dvorak, Greig and Clara Schumann.
She lived from 1858 to 1944 and produced a great deal of work – orchestral pieces, choral works, operas and a lot of chamber music.
Here is one of Smyth's chamber works, the third movement of her Trio for Piano, Violin and Cello, written in 1880.
Let's go back a few hundred years now and hear a Baroque song by Ginger Spice, Francesca Caccini. This is O Vive Rose, Oh Bright Roses.
Not much of Caccini's has been recorded. Although she was very much the leading female musician in Europe at the time, we are talking about the early 1600s and very little of her music survives today. By the way, Francesca was from an extremely musical family. Her father Giulio was a composer as was her sister and daughter.
This song was written around 1610 and is a canzonetta, a kind of vocal composition popular in Italy at the time. The songs were always secular, and generally involved pastoral or even erotic subjects.
Right, back to Scary Spice. Nadia Boulanger was hugely ambitious. As a professional teacher, she was also financially responsible for the family after her father died. She believed that Lili was a genius, describing her as the 'first important woman composer in history', and following her death in 1918 devoted herself to promoting her works. In fact, she stopped composing after Lili died.
It's been argued that Lili was 'allowed' to have a public career as her chronic ill health meant that, as she was unlikely to live long, she wouldn't be a professional threat to her male peers.
Anyway, let's hear three short piano pieces by her sister Nadia, played by the American pianist Lucy Mauro. Boulanger wrote these three pieces in 1914, originally for organ but later transcribed for piano.
Let's now change the mood completely and another piece by our Sporty Spice. The Wreckers is perhaps Ethyl Smyth's best-known work. It's been said to be the most important English opera between Purcell and Britten, although there might be an argument about whether or not that says a great deal.
She wrote this opera to a libretto in France. However, she couldn't get it premiered in France and had to settle for a premiere in a German translation in Leipzig in 1906. It wasn't until Sir Thomas Beecham championed her work that it was first shown in England, in 1909.
The opera was inspired by Smyth's walking holidays in Cornwall, during which she would explore smugglers' caves. The story, then, centres on apocryphal tales of the locals luring ships onto rocks in order to pillage their loot.
Smyth described The Wreckers as "the work by which I will stand or fall". I think she stood.
This is the Overture to The Wreckers. You do get a strong sense in the music of what the story is about. I do think it opens with the sort of gung-ho music you might expect from a Dame of the British Empire who looks like that, but it becomes interesting.
Ethyl Smyth was made a Dame in 1922 Ethyl Smyth, I suppose despite her personal and political life. She was 86 when she died in 1944.
Before we close, I want to return to our Baby Spice, Lili Boulanger.
Lili was determined to keep composing in the face of terminal illness amid the horrors of the First World War.
In June 1917, aged only 23, she endured an horrific operation with only local anaesthetic, laudanum and oxygen. In October she was working again, copying a fragment of an opera she was planning into her notebooks. She wrote, desperately, in the manuscript of her opera: "Everything must be finished before 1 January. It MUST!!! Will I be able to do it?"
The new year came, and still she composed, and with remarkable serenity dictated the next piece you are going to hear to Nadia from her deathbed. In fact, after writing it, and she did so as Paris was being bombarded by the Germans, she received her last rites and died peacefully in her sleep.
Her Pie Jesu, written in these tragic circumstances, is an extremely poignant piece that shifts that suggests a calm acceptance of fate. The text asks Jesus to grant someone 'everlasting rest'. The music's haunting beauty seems to speak of another world. Lili put everything into it and you can hear her sense of the transcendent.
I've listened to a number of versions of this, including one sung by a tenor. However, I kept coming back to this 1961 recording. The voice has an affecting vulnerability which I think is in keeping with the circumstances surrounding the piece's composition.
Lili Boulanger died on 15th March 1918, aged 24.
You may be surprised to know that the singer was not female. It was Alain Fauqueur, a boy soprano from Rabat in Morocco. He's still around, living in France and active on Facebook, but he's not a boy any more.
Featured composers:
Featured genres:
The Spice Girls playlist
Each Spotify track has been chosen specifically; however, the corresponding YouTube videos may be performed by different orchestras.