Richard Strauss
I recently mentioned to a friend that I was going to do a programme on Richard Strauss and the Nazis. "Oh dear," he said. "How do you think your friends will take that?"
We'll find out. Let's start with a song, Das Bachlein, The Mountain Brooklet, the words of which were written by a German poet, Caroline Rudolphi.
It's a nice little song, but does its history make it any less lovely? Richard Strauss wrote it in December 1933 and dedicated it to 'Reichminister Josef Goebbels', a dedication that was supressed when the song was first published in 1951. You should know that in the last line, 'He I think, should be my guide', the German word used for 'guide' was Fuhrer.
And that's a story that sums up the difficulty many people have with Richard Strauss. He was unquestionably one of the greatest composers Germany has ever produced but for some his reputation was, and is, stained by his association with the Nazis.
Shortly before Strauss wrote that song, he was appointed to the position President of the Reichsmusikkammer, or State Music Bureau. It was a position unsolicited by him, but for which he was the obvious choice, as by far the most important German composer of the day.
The Reichsmusikkammer was founded by Goebbels to promote "good German music" which was seen as consistent with Nazi ideals, while suppressing other, degenerate music, which included atonal music, jazz and, of course, music by Jewish composers.
I want to concentrate on Strauss's relationship with the Nazis, and so this programme will focus on the composer's later work. But before I go much further into this story, let's give it some context and look at why Strauss was so highly regarded at this stage of career.
One of his best-known works is Also Sprach Zarathustra, Strauss's Opus 30, which he wrote in 1896, when he was 32. You will be familiar with the very well-known opening fanfare to this tone poem but I think the rest of it deserves to be heard more often.
The work is based on Nietzsche's book of the same name. This is a U3A music group rather than a philosophy group, so I won't go too deeply into the book, which was a philosophical novel which considered man's place within the cosmos.
Strauss said: "I did not intend to write philosophical music or to portray in music Nietzsche's great work. I meant to convey by means of music an idea of the development of the human race from its origin, through the various phases of its development, religious and scientific, up to Nietzsche's idea of the Superman."
Nietzsche's book is a series of allegorical parables about the life of the prophet Zarathustra, delivered gospel-style in a series of 80 vignettes, all ending with the words, "Thus Spake Zarathustra". Strauss distils Nietzsche's work into nine sections.
This is how it ends, Die Nachtwanderlied, Song of the Night Wanderer, or, as I've seen it translated, Somnambulist's Song. A bell marking midnight in 12 strokes opens this final section. Steadily, the music moves toward its quiet conclusion, and ends with Nietzsche's "unresolved question" and the irreconcilable relationship between man and nature.
Two years later, Strauss wrote another work now regarded as something of a masterpiece, Ein Heldenleben, A Hero's Life, which is considered to be his most rounded orchestral work to that date. Strangely, the work contains elements of many of his previous works, including Also Sprach Zarathustra, and is therefore considered to be autobiographical in nature.
There was never an iota of false modesty about Strauss. With Ein Heldenleben he set out to write a heroic work in the mould of Beethoven's Eroica Symphony. In a programme note he wrote that subject of the piece was "not a single poetical or historical figure, but rather a more general and free ideal of great and manly heroism".
On the other hand, Strauss is said to have once observed: "I don't see why I shouldn't write a symphony about myself. I find myself quite as interesting as Napoleon (who was the original inspiration for the Eroica) or Alexander." His decision to conduct the premiere is seen as confirmation that the work was about Strauss. Shortly after the premiere, Strauss wrote that it was "only partly true" that the hero was himself.
For all that, one critic wrote that A Hero's Life represented a new level in the exploitation of a modern orchestra. Ein Heldenleben is in six unbroken movements, and this is the first, called simply The Hero. Here it is…
OK, let's get back to the start of the Richard Strauss story.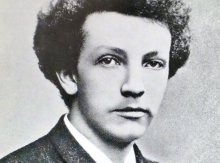 He was born in Munich on 11th June 1864, 19 years before the death of Wagner, a composer he was to hold in high regard. Strauss's father was the principal horn player at the Court Opera in Munich, and it was he who gave Strauss his early musical education.
Strauss was very much a boy genius. Would you like to hear something he wrote when he was aged six and three-quarters?
That was called Schneiderpolka, or Tailor Polka.
After receiving private instruction in music theory and orchestration at what is now the Bavarian State Orchestra, Strauss started receiving violin instruction at the Royal School of Music and in 1882 he entered university in Munich, studying not Music but Philosophy and Art History.
He left a year later to go to Berlin, where he became assistant conductor to Hans von Bulow, a baron and easily the most famous German conductor of his generation. Von Bulow was very fond of Strauss, and ensured that he succeeded him as conductor of the Meiningen Court Orchestra.
At the time, Strauss's compositions were very much in the style of Schumann or Mendelssohn, rather than the more progressive Wagner.
In 1894, Strauss married the notoriously cantankerous soprano Pauline de Ahna, who despite her alienating character was a great source of strength and inspiration to him. Throughout his life, Strauss preferred the soprano voice to all others, and all his operas contain important soprano roles. We're going to hear an example now.
Strauss wrote Salome in 1905 and there are those who wished he hadn't. It's a one-act opera based on a play written in French by Oscar Wilde, and was hugely controversial, with its Biblical theme, eroticism and violence. Some people still think of it as the most scandalous opera ever.
Its Dance of the Seven Veils is particularly well known but you are going to hear the very end of the opera, and Jesse Norman singing Ah! Ich habe deinen Mund geküßt, At last, I have finally kissed your mouth, from a scene in which Salome kissed the severed head of St John the Baptist.
Salome was typical of Stauss's work at this time, in that it was highly modernist and characterised by dissonance and truly cacophonous sections. The same could be said of the even darker Elektra, another one-act opera he wrote four years later.
Strauss's career straddled the late Romantic and modern periods of musical history yet, strangely, as he grew older he moderated his music, with much less dissonance, reverting to what might be called late-Romanticism.
That is typified in his fifth opera, Der Rosenkavalier (loosely translated as The Knight of the Rose), which met with great public success when it was premiered in Dresden in 1911. It was loved by traditionalists and conservatives but infuriated those who had the more radical taste in music Strauss had previously exhibited. It features a set of beautiful waltzes from the opera are often played separately in concert.
Der Rosenkavalier is set in Vienna around 1740 and centres on four main characters: a 30-something female aristocrat trapped in an unhappy marriage, a 17-year-old count with whom she is having a secret affair, and her dim-witted cousin and his beautiful young fiancée.
You are going to hear two pieces from the opera. First comes one of the few three-soprano arias in the operatic world, Hab' mir's gelobt, I Made a Vow, a beautiful song, here featuring the great Elizabeth Schwarzkopf. Then you will hear Pavarotti singing, in the role of the 'Italian Singer', Di rigori armato il seno, With rigours armed the breast.
Operas, symphonies, songs, solo instrumental pieces, chamber music – they all feature among Strauss's 298 numbered works, written over an astonishing 79-year period. One Strauss work I keep going back to is his tone poem, An Alpine Symphony (Opus 64), written in 1915. I suppose it's the Munro-bagger in me.
An Alpine Symphony comprises 22 continuous sections of music depicting experiences encountered during an 11-hour Alpine climb. It's a colossal work, around 50-minutes long, with a score calling for 125 players, which is one reason why it's not performed all that often.
In many ways, An Alpine Symphony marks the end of an era for German symphonic music because after the First World War big romantic works like this went out of fashion.
Though this tone poem was completed during the war, though there's no indication of that in the music.
Rather, it is focused on the representation of a landscape through music and a portrait of an unidentified person successfully conquering a mountain. It describes a variety of landscapes on the route to and from the summit: the climber passes through the woods, by a stream, near a waterfall, across flowery meadows and pastureland, through thickets, and onto the ice before reaching the top.
In some ways Beethoven's 6th Symphony is a precedent for this work. Both feature a brook, and a violent storm followed by a soothing calm. Beethoven, though, claimed that his symphony contained "more expression of feeling than painting". Strauss, on the other hand, wanted to represent nature in sound, and to show the human protagonist who experiences it.
As a boy, Strauss experienced an adventure similar to the one described in his An Alpine Symphony: he and a group of climbers lost their way heading up a mountain and were caught in a storm and soaked on the way down.
Strauss loved the mountains so much that in 1908 he built a home in Garmish-Partenkirchen that had stunning views of the Alps.
You are going to hear a section of The Alpine Symphony called Dangerous Moments – On the Summit. A warning: because An Alpine Symphony does not have a break, it will end very abruptly.
This piece convinced me that nobody writes mountains, musically speaking, better than Strauss. I am going to have to end this rather abruptly.
The Strausses had one son, Franz, who married someone called Alice von Hermannsworth in 1924. She was the daughter of a Jewish industrialist, though the wedding ceremony was a Roman Catholic one. Franz and Alice had two sons, Richard and Christian.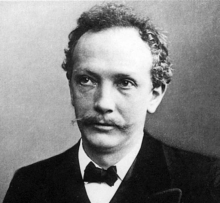 All this is relevant to the next part of the Strauss story, the part I began with. Strauss had a connection with Hitler long before he knew it. A few months after Salome's premiere, Strauss conducted the opera in Graz, Austria. Among those present were Mahler, Schoenberg, Puccini and, it's thought, Adolf Hitler.
Hitler came to power in January 1933, when Strauss was 69. The composer was pragmatic about it, considering himself to be above politics. "I made music under the Kaiser", he reportedly told his family. "I'll survive under this lot as well. I just sit here in Garmisch and compose. Everything else is irrelevant to me.".
And yet he accepted the role of Reichsmusikkammer president at Goebbels' behest.
He said at the time that he wanted to do good, and determined to improve the financial lot of musicians, ensuring more government subsidy and lobbying for a change in copyright law. He also refused to blacklist Jewish composers, and remained loyal to Jewish friends. To the consternation of Nazi leaders, Strauss also determined to do what he could to protect his Jewish daughter-in-law, Alice, and his grandsons Richard and Christian.
Among his Jewish friends was a writer called Stefan Zweig, who wrote the libretto for Strauss's Opera The Silent Women. A letter Strauss wrote to Zweig in which he criticised Nazi racial profiling was intercepted by the Gestapo and Goebbels ordered Strauss to resign his post as Reichmusikkamer, "on grounds of ill health".
Some feel shamefully, Strauss wrote to Hitler to assure him that the letter had not represented his view of the world or his "true conviction". Hitler never replied.
Months after his dismissal, the Olympic Hymn, which Strauss had written two years earlier, was premiered at the opening ceremony of the Berlin Olympics, with Strauss himself conducting and the Nazi top brass, including Hitler, looking on. Here it is…
It's easy to understand what prompted Toscanini to remark: "To Richard Strauss, the composer, I take off my hat. To Richard Strauss, the man, I put it on again."
However, as I hinted at earlier, Strauss was deeply fond of his Jewish daughter-in-law Alice and his Jewish grandchildren, and was aghast when Alice was arrested towards the end of the war.
Although she was released, members of her family were deported to a concentration camp in what is now the Czech Republic, and when Strauss' letters begging for their release fell on deaf ears he personally drove to the camp in an attempt to use his influence to get them released. It was futile: none of them survived the camp.
In April 1945, Strauss was apprehended by American soldiers at his Garmisch estate. As he descended the staircase he announced to Lieutenant Milton Weiss of the US Army, "I am Richard Strauss, the composer of Rosenkavalier and Salome." Lt. Weiss, who was also a musician, nodded in recognition and an "Off Limits" sign was subsequently placed on the lawn to protect Strauss.
John de Lancie, who was principal oboeist with the Pittsburgh Philharmonic Orchestra, was in the army unit that first met Strass, and he knew the composers work. He approached Strauss and asked him if he had ever considered writing an oboe concerto. Strauss answered simply "No", and the topic was dropped. Six months later, de Lancie was astonished to see that Strauss had changed his mind and was indeed publishing an oboe concerto. Strauss saw to it that the rights to the U.S. premiere were assigned to de Lancie.
However, in the intervening period de Lancie had joined the Philadelphia Orchestra as a section oboeist and, in an act of mean-spiritedness disguised as protocol, it was determined that he could not play the premiere as he was not the Philadelphia's principal oboeist. And so de Lancie gave the rights to perform the premiere to a young oboist friend at the CBS Symphony in New York, Mitch Miller.
This is the third and final movement.
In the closing months of the Second World War, Strauss wrote Metamorphosen. It's a study for 23 solo strings, and is widely believed to have been written as a statement of mourning for Germany's destruction during the war, in particular as an elegy for the bombing of Munich, and the destruction of opera houses in Munich and Vienna.
A few days after he completed the work, just weeks before Hitler's suicide, he wrote in his diary: "The most terrible period of human history is at an end, the twelve year reign of bestiality, ignorance and anti-culture under the greatest criminals, during which Germany's 2000 years of cultural evolution met its doom and irreplaceable monuments of architecture and works of art were destroyed by a criminal soldiery."
This is the second movement of Metamorphosen.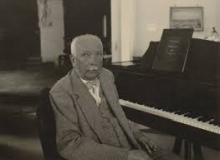 In 1948, Strauss was cleared by a German denazification board. By now, he was 84, and he knew his life was drawing to a close. And yet he was losing none of his powers and in that year he wrote a set of songs which were after his death given the title Vier Letzte Lieder, Four Last Songs. They weren't actually his last works; he was to write two more pieces.
It's hard not to think of his Four Last Songs, which put to music words by the Prussian poet Joseph von Eichendorff, as his farewell to the world. All but one of the songs deal with death, and they are all imbued with a lovely sense of calm and acceptance. They are not at all maudlin, but rather voice a deeply-felt appreciation of the world before leaving it.
The combination of a beautiful vocal line with supportive horn accompaniment references Strauss's own life; as I explained earlier, his wife was a famous soprano and his father a professional horn player.
Four Last Songs begin with Spring, followed by September and then Going to Sleep. Im Avendrot, At Sunset, is fittingly the last of the four.
You are going to hear Jessye Norman singing Im Avendrot, a song which is one of the most poignant ways you can imagine for a composer to end his career. Here's an English translation first…
We have, of need and joy
wandered hand in hand;
From wandering rest we now
amidst the silent land.
The valleys fold around themselves
before the deepening gloom
Alone two larks still soar
Rapt in the twilight perfume.
Stand here and let them whirl,
soon enough comes their rest
Would that we not lose ourselves
within this loneliness.
O utter silent peace!
Suffused with this sun's last breath
Of wandering grow we so weary -
Is this our sense of death?
Richard Strauss died in September 1949, absolved of any Nazi affiliations but still tainted. A tainted genius.
Featured composers:
Featured genres:
Richard Strauss playlist
Each Spotify track has been chosen specifically; however, the corresponding YouTube videos may be performed by different orchestras.