Alexander Scriabin
Alexander Scriabin's musical reputation to a large extent reflects his reputation as a person. He was unquestionably a very odd man, with some bizarre ideas, and certainly in the latter part of his career his music echoed that. However, when he began his career as a pianist and a composer his work was largely mainstream Romantic. We'll come to that in a minute. Let's deal with the odd stuff first.
Alexander Scriabin died in 1915 at the age of 43. At the time of his death he was working on a magnum opus he started 12 years earlier. This unfinished work was called Mysterium and Scriabin planned that it would be synesthetic, that is exploiting the senses of smell and touch as well as hearing. He associated certain colours with harmonic tones. He once chatted to Rimsky-Korsakov about this and was surprised to learn that Rimsky-Korsakov agreed that musical keys could be associated with colours. Both maintained that the key of D major was golden-brown; but Scriabin linked E-flat major with red-purple, while Rimsky-Korsakov favoured blue.
Scriabin also subscribed to an occultist religious movement called Theosophy, which holds that there is an ancient and secretive brotherhood of spiritual masters, Mahatmas, who have great wisdom and spiritual powers and who are centred in Tibet. That's why Scriabin intended the grand premiere performance of Mysterium to be in the foothills of the Himalayas. It would be a week-long event that would be followed by the end of the world and the replacement of the human race with what he called "nobler beings".
Scriabin wanted his potential masterpiece to feature "an orchestra, a large mixed choir, an instrument with visual effects, dancers, a procession, incense, and rhythmic textural articulation". He also determined that giant bells suspended from the clouds would summon people from across the globe to the site of the performance.
Scriabin had sketched 72 pages of a prelude to the Mysterium. A Soviet composer called Alexander Nemtin spent 28 years reforming this sketch into a three-hour-long work, which was eventually recorded. I would urge you to listen to only the start of it - a few seconds is all you need to get the drift of this music.
As I said Scriabin was, in his later years, completely wacky. He used to stand on chairs and give talks about his dreams. People used to say he would walk as if he was flying: he would hop, race, skip and jump his way from point A to point B. He carried out flying experiments with his wife, attempting to transport his body through the air.
For all that he was very strange, he did attract some significant fans. His funeral was attended by such numbers that tickets had to be issued. Rachmaninoff was a pallbearer, Aaron Copland was generally complementary about his work, some of which he said was "truly inspired", Tolstoy thought his music was "a sincere expression of genius", the great pianist Horowitz was a big supporter and Ashkenazy was a lifelong champion.
But those people who had difficulty, or have difficulty, with some of Scriabin's most challenging works should be aware that this composer also wrote some wonderfully Romantic music that was clearly heavily influenced by Chopin and sometimes Liszt.
I cannot think of any other composers whose work changed so markedly in such a short period of time. Generally, his career can be divided into three periods: his early, Romantic work, produced from the 1880s when he was a teenager to 1903, after he completed his 2nd Symphony; a mid period from 1903 to 1907, when his work was beginning to get more atonal and dissonant; and eight years before his death, when his somewhat challenging music became very controversial, using unusual textures and harmonies.
In this programme, I want to concentrate on Scriabin's early, Romantic, period, roughly from the 1880s to 1903.
Scriabin was first and foremost a pianist, and a very gifted one at that. Before I tell you more about him, let's hear one of his early pieces. This, in fact, is his first catalogued piece, Opus No. 1, a Waltz in F minor, which he wrote in 1886 when he was just 14. The pianist is Valentina Lisitsa.
Scriabin was born in Moscow in 1872 into a noble family. As a child he was frequently exposed to piano playing. He was extremely precocious and while still very young, he took to building pianos because he was fascinated by their mechanisms. He studied piano from an early age, taking lessons from someone who also taught Rachmaninoff.
He subsequently studied at the Moscow Conservatory and, despite his particularly small hands, he gained a reputation as a gifted pianist. However, he damaged his right hand while over-zealously practising Balakirev's very taxing Islamey and he was told by his doctor that he would never play again.
And so in 1892 he wrote his first significant work, his Piano Sonata No.1 in F Minor.
This is the opening movement, played by another Moscow-born pianist, Alexander Ghindin.
Two years after he wrote that work Scriabin made his debut as a pianist, having defied his doctor's prognosis, got married to a young pianist, and toured Russia and abroad. He then returned to teach at the Moscow Conservatory and to continue composing.
I'd now like you to hear something from Scriabin's ambitious 1st Symphony, which he completed in 1900. He wrote five symphonies, the last three of which have names: The Divine Poem; The Poem of Ecstasy and Prometheus and The Poem of Fire. Musically, the 1st Symphony is a Romantic work. It is reminiscent of Mahler in scale, having six movements, the last of which features a choir and solo parts.
This is Riccardo Muti conducting the Philadelphia Orchestra in the second movement. This is generally accepted to be the best recording of this work.
Let's now hear the last movement of the 1st Symphony, largely because it's quite different from most of Scriabin's output. As I said, it's a choral symphony, and he wrote the words himself. They are a hymn to art, glorifying art as a form of religion, and the words are somewhat mawkish and leaden. It begins:
O wonderful image of the Divine,
Harmony's pure Art!
To you we gladly bring.
Praise of that rapturous feeling.
You are life's bright hope,
You are celebration, you are respite,
Like a gift you bring to the people
Your enchanted visions.
It's heady stuff.
This movement was omitted when this symphony was premiered, much to Scriabin's chagrin. Indeed, when he first sought to get the symphony published, the publishing house's artistic committee, which accepted or rejected works and which included Rimsky-Korsokov and Gluzunov, declared: "The vocal part in the sixth movement of your symphony is unperformable, and in such a form this movement of the symphony cannot be published".
This is from the same recording as I used earlier, and features the Westminster choir, mezzo-soprano Stefania Toczyska and tenor Michael Myers.
Influenced heavily by Chopin, Scriabin's early compositions included a storm of etudes, impromptus, mazurkas and nocturnes. I thought I would let you hear a couple of these early works. First, this is his Etude in D Sharp minor, his Opus No. 12, here played by Vladimir Horowicz.
Shortly before he wrote that piece Scriabin wrote two pieces for the left hand. One piece was a very attractive Prelude, the second this Nocturne, here played by the Swedish pianist Maria Lettberg.
You are now going to here Scriabin's Piano Concerto, Opus No. 20, which he wrote in 1896, when he was 24. It was his very first work for orchestra and his only concerto. When Scriabin published it, the composer Alexander Glazunov said, "This piece proves without the shadow of a doubt that Scriabin has lost his mind," to which Rachmaninoff supposedly replied, "He never had a mind to lose!"
The Russian pianist Nikolai Demidenko once said of this concerto: "It's unbelievably, insanely beautiful. It is a world you never thought about. To perform it adequately, you have to be ready for challenges, and there are thousands. Eighty per cent of the difficulties are in the left hand, as Scriabin's right hand was injured at its composition."
And here's a quote from the American pianist Garrick Ohlsson: "People very often expect that the Scriabin Concerto will be like Rachmaninoff's Second or Third, but it's a more introspective, poetic piece -- maybe too poetic, dreamy."
Once again, this is Vladimir Ashkenazy at the piano, performing all three movements of Scriabin's Piano Concerto in F sharp minor, with the London Philharmonic under the American conductor Lorin Maazel.
Let me tell you some more about Scriabin. He was egocentric and had an extremely abrasive and narcissistic personality and an uncanny knack of making enemies. Rimsky Korsakov said he was "self-opinionated, warped, strange and distorted."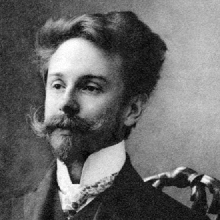 Scriabin, who was just five foot tall and general quite frail. He had something of an effeminate manner, which he blamed on being brought up surrounded by women. He showed some mental instability early stages of life, and eventually believed that the world could only be saved through his art. He certainly had vivid hallucinations, and, as I may have hinted at earlier, saw the end of the world culminating in a mass orgy. Who's to say he's not right? At times he thought he was God (being born on Christmas Day reinforced this delusion) and once he tried to walk on water on Lake Geneva and preached to the fishermen.
In 1904 Scriabin relocated to Switzerland. He then spent several years travelling overseas, and during a spell in Paris worked with Diaghilev on a series of concerts. He returned to Russia in 1909 and continued to compose grandiose works. He died in 1915, with his Mysterium unfinished. No giant bells were ever suspended from clouds, and he missed out on the end-of-the-world orgy.
Scriabin was married twice – he and his first wife divorced – and had seven children. One of his daughters, Ariadne, became a hero of the French Resistance during the war, and was awarded the Croix de Guerre. She was shot after being ambushed by agents of the Vichy government. Ariadne's daughter was also involved in the Resistance, and she too received a Croix de Guerre.
Before we finish, let's hear another of Scriabin's works for solo piano, for the composer was always a composer at heart. This is Valentina Lisitsa, who played the waltz with which I began this programme, playing the first of two impromptus that make up his Opus 14.
Finally, here's the second impromptu.
Featured composers:
Featured genres:
Alexander Scriabin playlist
Each Spotify track has been chosen specifically; however, the corresponding YouTube videos may be performed by different orchestras.