Fritz Kreisler
Fritz Kreisler, who was born in Vienna in 1875 and died in 1962, was one of the greatest violinists of his age. His was a household name and for most of his life a performing artist in demand throughout the world. He had a distinctive style, his playing noted for its sweet tone and expressive phrasing. As well as a star performer he was a composer of some beautiful Romantic melodies that became big hits. He was for many years a faithful and loving husband, and by all accounts a kind and caring man. He was also the perpetrator of one of the longest-running hoaxes in musical history.
Friedrich Kreisler's father Salomon was a doctor and a keen amateur violinist. His father encouraged and taught Fritz. The family would host music evenings, with guests – including a keen young violinist called Sigmond Freud – providing the entertainment. Young Fritz would join in, playing a small violin made from a cigar box. He would amaze his gusts by playing the Austrian national anthem, displaying perfect pitch and timing.
At the age of seven he became the youngest ever student at the Vienna Conservatory (his mother had to lie about his age), where he studied violin and, with Anton Bruckner as teacher, composition. By the time he was 10 he had won the conservatory's gold medal and transferred to the Paris Conservatoire, where Delibes taught him composition. Fritz went to Paris on his own, his mother being too ill to travel, but he settled well there.
At the age of 12, two things happened: although his family background was Jewish, he was baptised and he won one of the most important prizes in classical music, the Premiere Grand Prix de Rome gold medal, competing against 40 other players, all of whom were aged 20 or over.
After graduating with the conservatoire's violin prize, the young Fritz toured America, where he was feted as a "wunderkind", a musical sensation, shy and slim, wearing tight trousers and high-tasseled boots – a typical Viennese boy by appearance but already a phenomenal performer.
Unfortunately, I don't have a recording of Kreisler playing in America but I do have one of his earliest recordings, from 1904, five years after he returned from the States. I've chosen it because the image on YouTube shows Kreisler as the typical Viennese boy I mentioned. This is him playing Joseph Sulzer's Sarabande on the G-string.
On returning to Austria Kreisler applied but was rejected for a position in the Vienna Philharmonic, and the let-down persuaded him to look elsewhere for a career. He left music to study medicine and then had a brief spell in the army before returning to music.
"In those youthful days," Kreisler said, "I had some very weird thoughts about my future career. I envisaged myself operating on a patient in the morning, playing chess in the afternoon, giving a concert in the evening, and (in anticipation of a glorious military career) winning a battle at midnight."
He made his Vienna debut as a violinist in 1898 and gave a concert with the Berlin Philharmonic the following year. He returned to America in 1900 and again in 1902, and in London in 1904 he was awarded the Philharmonic Society gold medal. A star was born.
But Fritz Kreisler was more than a virtuoso violinist. The year 1905, when he was 30, three of his compositions that would seal his reputation as a Romantic lyricist were published: Liebesfreud (Love's Joy), Liebeslied (Love's Sorrow) and Schön Rosmarin (Lovely Rosemary), collectively known as Alt-Wiener Tanzweisen (Old Viennese Melodies) were published.
Let's now hear Kreisler play Liebesfreud.
And now Liebeslied.
Now, let's hear Schon Rosmarin.
That Fritz Kreisler was one of the most gifted violinists of all time is undoubted. But I think you heard in those pieces one of the reasons why some people tended – and tend – to be a tad sniffy about him.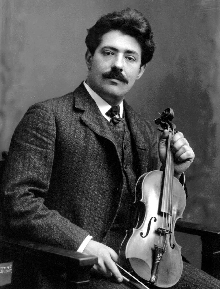 Kreisler played with intensified vibrato – the 'French Vibrato', some called it – and this was disdained by old-school traditionalists like Joseph Joachim, who employed what was known as 'The German School' of playing. Kreisler was by no means the first or at the time only violinist to use constant vibrato but he was instrumental in its popularity.
He also played with grace and an ease of expression. His playing, like his compositions and indeed his personality, was easy-going, richly romantic and often light-hearted. His style is said to be reminiscent of the gemütlich (cozy) lifestyle of pre-war Vienna, and his Old Viennese Melodies reflected that. These three-minute works were the big hits of the day.
But it wasn't just his rhythmic vigour and heavy use of vibrato that set him aside from many other violinists. It's that he was unashamedly an entertainer, a showman even, whose sentimental music was charming, engaging and rarely challenging. Being popular is sometimes frown upon.
There's another, bigger reason why Fritz Kreisler was never quite fully accepted by some people as the genius he undoubtedly was.
When Kreisler's Old Viennese Melodies were published, they were attributed not to him but to Joseph Lanner (1801-1843), a Viennese dance music composer and dance orchestra conductor. Lanner was one of those composers who helped to transform the waltz from a peasant dance to a dance for high society. In 1910, however, Kreisler had the works – which had become an integral part of his repertoire, as encore pieces – published under his own name.
It was a curious thing to do but no more curious was the fact that in 1910 Kreisler wrote a slew of works which he attributed to composers from another era: Louis Couperin, Nicola Porpora, Gaetano Pugnani, Carl Ditters von Dittersdorf, Francois Francoeur and Giuseppe Tartinin. The following year came works falsely attributed to Wilhelm Friedemann Bach, Giovanni Battista Martini, Jean Baptiste Cartier and another to Couperin.
Let's hear some of this music now. The next piece is now known as Chanson Louis XIII et Pavane in the Style of Couperin. There are recordings of Kreisler playing this piece but I don't want to use these old recordings throughout this programme so the violinist here is Salvatore Accardo.
So, let's hear Chanson Louis XIII et Pavane in the Style of Couperin.
Now let's hear Itzhak Perlman play what we must now call Sicilienne and Rigaudon in the style of Francoeur.
So what's going on here? Kreisler's career was becoming established just before the First World War and he felt he was running out of short pieces that would keep his concerts fresh. And so he began to write music that was vaguely in the style of little-known composers from yesteryear.
Baroque and classical music wasn't as well known then and Kreisler would claim that he had unearthed these little gems from libraries and museums. I don't know if anyone else practised reverse-plagiarism with quite the same vigour as Fritz Kreisler, who found that these pieces went down well at his concerts.
People did smell a rat as the years went on but it wasn't until 1935 that all was revealed. Kreisler had asked his American publisher to list these 'Classical Manuscripts' as his own compositions but this change was pre-empted by New York Times music critic Olin Downs, who had started to investigate the origins of one of the works. Downs asked Kreisler whether he had actually written the older pieces and Kreisler came clean. His admission sparked an uproar in the classical music world. Some felt he was guilty of a terrible deception; others praised the quality of his 17 fakes and argued that if Kreisler's audiences enjoyed them, well, that was OK.
Let's now hear Kreisler in a 1926 recording of a scherzo "in the style of Dittersdorf".
Kreisler weathered the storm these pieces caused. He contended simply that no-one was harmed by the pieces. He commented: "When I was desirous of enlarging my programmes I found it impudent and tactless to repeat my name endlessly on the programmes."
Let's have some more music now. In 1907, Kreisler asked Edward Elgar to write a violin concerto. Two years earlier, he told a newspaper:
If you want to know whom I consider to be the greatest living composer, I say without hesitation Elgar... I say this to please no one; it is my own conviction... I place him on an equal footing with my idols, Beethoven and Brahms. He is of the same aristocratic family. His invention, his orchestration, his harmony, his grandeur, it is wonderful. And it is all pure, unaffected music. I wish Elgar would write something for the violin.
And so Elgar wrote the concerto, with some help from Kreisler, and the work was premiered in 1910 in London, with Kreisler playing and Elgar conducting the London Symphony Orchestra, whose leader, Billy Reed, was a close friend of Elgar.
Let's listen to Pinchas Zukerman and with the New York Phil conducted by Michael Christie playing the opening movement of Elgar's Violin Concerto.
By the start of the First World War Kreisler was one of the top concert draws in the world, yet he nevertheless enlisted in the Austrian army when hostilities began and spent most of 1914 in uniform, including four weeks on the Russian front. As I explained earlier, Kreisler has joined the army before: he was commissioned a reserve lieutenant in the imperial Austrian army in 1900. Now, in his 40th year, he was back in the army, this time experiencing trench warfare. He had no hesitation about fighting. He once said:
It has made me angry sometimes when people have said, 'How could they take an artist and let him fight?' They should rather not think it worthy of any comment. I am an Austrian. As soon as war began, the last thing I thought of was a violin or that I had ever played one. Why should I claim immunity as an artist?"
His musical ear, he claimed, served him well in the war, for he said that because of it he could distinguish the sounds of the different shells as they whizzed past him.
There's something you should know about Fritz Kreisler: he was an inveterate story teller. No, he was a teller of tall tales. He once claimed for have been held at gunpoint in Butte, Montana, who wanted to hear him play a piece by JS Bach. Bearing this in mind, it may be wise to read the small book he wrote about his experiences in the war, [http://www.gwpda.org/memoir/Kreisler/Kreisler.htm](Four Weeks in the Trenches: The War Story of a Violinist), with a pinch of salt.
The book sold well in the United States and after he was honourably discharged in November 1914 after he was wounded. The story – his story – is that he was trampled under the hooves of Cossack cavalry and left unconscious on the field of battle. A commission of surgeons found him unfit for further service and he returned to the States to continue his career as a performer.
However, Kreisler was an Austrian, and when the United States joined the war in 1917 he had to cancel a major tour. He was even accused of sending money to fund the Austrian effort, and he was forced to explain that the money was for war orphans and his aging father.
While he was welcomed back to America after the war it took some time before he was to perform in France. In 1924 Kreisler settled in Berlin but left Germany after the Nazis took power after the was threatened with being drafted into the military. He briefly took French citizenship but later settled in the United States and became an American citizen in 1943.
It's time for some more music and another piece written and played by Fritz Kreisler. He wrote a piece called Shepherd's Madrigal in 1927, basing it on a 17th century German song. Let's hear Altdeutches Schafer Madrigal.
Next we'll have another piece by Kreisler but the Israeli violinist Shlomo Mintz is playing Kreisler's Gypsy Caprice.
You will have gathered by now that Fritz Kreisler was a colourful character. He was also an unconventional musician in that he rarely practised. In fact, after the age of 12 he took a positive aversion to study and practice. He would claim that playing the violin was an activity for the brain rather than the hands and he got more benefit from listening to good performances than to practising. He once said:
I really believe that hearing [virtuoso violinist Joseph] Joachim and [pianist Anton] Rubenstein play was a greater event in my life and did more for me than five years of study.
As well as his short and sentimental compositions Fritz Kreisler wrote a number of other works, including four operettas, Apple Blossom, Lisa, Rhapsody and Sissy; some vocal pieces; a string quartet; four pieces for cello and piano and a violin concerto which he falsely attributed to Vivaldi. Let's listen to it now, and you might want to read the comments under the score when you open the YouTube page. As one commentator rightly points out, no-one today could imagine that this music was in the style of Vivaldi, but maybe between the wars – this was written in 1927 – they did.
This, then, is the opening movement of Fritz Kreisler's Violin Concerto in C "in the style of Vivaldi" (I don't think!).
One of Kreisler's many talents was writing transcriptions and arrangements of other composers' works. JS Bach, Chopin, Dvorak, Handel, Gluck, Glazunov, Mendelssohn, Paganini, Rachmaninov, Ravel, Rimsky-Korsakov, Schumann, Schubert, Tchaikovsky … you name it, they had some of their music given the Kreisler treatment.
Here we have Itzhak Perlman playing Kreisler's arrangement of Anton Dvorak's well-known Songs My Mother Taught Me.
Fritz Kreisler performed throughout the world and gave several concerts not far from where I am writing this: Dundee in Scotland. He first appeared in the city's Kinnaird Hall in December 1903 and returned 12 months later. Here's what appeared in the Dundee Courier after his third performance in the city, on 20th March 1906:
Herr Kreisler has all the special qualities of the virtuoso happily combined with those of the true artist. His technical skill is of the very highest, notably in passages of a delicate and tender kind. In such the delicacy and purity of his tone are unrivalled, and its quality simply delicious. But in music of a grander nature Herr Kreisler is equally at home, although the programme last night was not of a type specially suited for the display of this side of his talent. When need be his tone is of the broadest, fullest, and most sweeping kind, and his execution superb in its dignity and virile forcefulness.
In 1923 the same newspaper offered an insight into Kreisler. An article headlined 'Kreisler the man' told readers:
The Austrian virtuoso is a sturdily-built man whose every appearance indicates strength and endurance. There is none of the effeminate artiste in Kreisler; he is virile and rugged, with eyes that on occasion smoulder with the poetic passion of his very soul. No man is more modest; no man more kindly; and he has that saving grace of humour, so often absent in lesser men, that can even let him tell a story against himself.
Here's Fritz Kreisler playing something I know he played in his 1923 concert in Dundee, his arrangement of Rimsky-Korsakov's Hymn to the Sun from Le Coq d'Or.
Kreisler gave at least seven concerts in Dundee in the course of his career. He was, he said of the Caird Hall, "always happy to play in this magnificent hall".
By this time, Kreisler's compositions were familiar to most concertgoers. These pieces were written not only to show off Kreisler's vibrato; they were the perfect length for the 78rpm records he made in abundance after being signed to an exclusive contract by the Victor label in 1910. He recorded his most popular pieces as many as six times as Folksongs from Austria, Small Pieces, Classical Manuscripts, Masterworks of the Violin, and so on. They also allowed Kreisler to display his skills as a pianist. The noted pianist Harold Bauer started his musical career as a violinist, and he and Kreisler once performed Beethoven's 'Kreutzer' Violin Sonata and then switched instruments to play it again at a party after the concert.
Let's now hear Kreisler play some Bach. This is from a recording made in 1926-27 and here he is playing the Adagio from Bach's Violin Sonata No. 1.
There's one aspect of Kreisler's life I have yet to mention: his marriage. Kreisler met Harriet Lies, a New York born divorcee who was the daughter of a German-American tobacco merchant, while sailing back to Europe on the SS Prince Bismarck after his American tour of 1901. They were married a year later, although they had to repeat the ceremony three more times before of some legal difficulties. Their marriage was to last 60 years.
In 1941, Kreisler was seriously injured when he was hit by an egg-delivery truck while crossing a street in Manhattan. His skull was fractured and he was in a coma for a week. However, he recovered, and continued to perform until 1950, when he retired. He and Harriet spent much of their remaining years on various charitable enterprises. Indeed, it's been said that no artist contributed more to worldwide charities in the 20th century than Fritz Kreisler.
Kreisler died of a heart condition on 29th January 1962 at the age of 86. Because of illness, his wife was unable to attend his funeral in a Catholic church in New York at which a bishop gave the eulogy. In it, he recalled that Harriet had always contended "that if only Fritz had practised, he would have been a great musician!" Harriet died 15 months later. I think that, because Kreisler's music leaned towards the popular (he had relatively few concertos in his repertoire), there's a tendency to view him as extraordinarily gifted yet somehow superficial. And yet Kreisler knew some of the greats of the musical world – the likes of Bruckner, Bruch, Brahms, Gluzunov, Joachim, Schoenberg, Rachmaninov and Elgar – personally, and his unique playing style was much admired by most of them, and even by his rivals.
Let's finish, then, by listening to Kreisler play a major piece: Brahms' D Major Concerto. This is a 1936 recording of the third movement, with Sir John Barbirolli conducting the London Philharmonic Orchestra in a 1936 recording of the third movement.
Featured composers:
Featured genres:
Fritz Kreisler playlist
Each Spotify track has been chosen specifically; however, the corresponding YouTube videos may be performed by different orchestras.