Georges Bizet
Let's start with a song.
That was Luciano Pavarotti and Nicolai Ghiaurov with the National Philharmonic Orchestra under Robin Stapleton singing Au fond du temple saint.
At the back of the holy temple,
decorated with flowers and gold,
a woman appears...
I can still see her.
It is one of the best-known duets in the operatic world. It comes from Georges Bizet's The Pearl Fishers, first performed in 1863 and set in ancient times in what is now Sri Lanka. Along with Carmen, it's one of Bizet's most popular works. However, today I want to focus on Bizet's other work. As a composer, he's best known for his operas, but he also wrote orchestral works, songs, choral works and piano pieces.
Piano pieces such as this…
That was the German pianist Julia Severus playing Romances sans Paroles, Romance without Words, which Bizet wrote in 1886.
Right, let's tell you something about Alexandre Cesar Leopold Bizet. That was the name he was registered as but he was christened Georges.
Bizet was born in Paris in 1838. His father, Adolphe, had been a hairdresser and wigmaker before becoming a singing teacher despite his lack of formal training. He also composed a few works, including at least one published song. Bizet's mother Aimée was an accomplished pianist, and as a young child – he was an only child – Bizet echoed his mother's aptitude for music.
He entered the Paris Conservatoire at the age of nine, even though the minimum entry age was 10, and made a quick impression, first as a pianist and then as a composer.
Before we go on, let's hear more of his piano pieces, again played by Julia Severus.
Four days after his 17th birthday in 1855, Bizet started work on his Symphony in C Major. He finished this remarkable work within a month and it was never played in his lifetime. Having written it, he seems to have forgotten about it, leaving it in the conservatoire's archives. Anyway, the score was lost and only discovered in 1933 and the work was premiered a couple of years later – 80 years late!
It's said Bizet felt it was too indebted to the work of his great mentor, Gounod, who was a lasting influence on Bizet's musical style. In fact, there is much in this symphony that resembles, in some passages not for note, some of Gounod's work.
Remember, Bizet had barely turned 17 when he wrote this. It's interesting that so many great composers really found their feet in their teenage years. Mozart wrote an early masterpiece, his Symphony No. 25, at the age of 17, and as I said earlier, Mendelssohn was the same age when he wrote his Overture to A Midsummer Night's Dream. Shostakovich was an aging 18-year-old when he finished his first symphony.
That said, I think that this symphony is a wee gem by any standards. Listen out for how the symphony ends in a blaze of colourful virtuosity. I think it's a pretty apt conclusion for a symphony that's infused with Bizet's youthful exuberance.
This recording is of Bernard Haitink conducting the Concertgebouw.
It was only after its very belated premiere was Bizet's Symphony in C as a youthful masterpiece on a par with Mendelssohn's Overture to A Midsummer Night's Dream, which he wrote at about the same age.
Bizet quickly entered the French music scene. He attended Friday night parties held by Jacques Offenbach, and met his aging idol, Rossini, who gave him a signed photograph which he treasured.
In 1857, Bizet won the prestigious Prix de Rome, receiving a five-year financial grant and the chance to work and study in Rome, Germany and Paris. He wrote a Te Deum while in Rome – it wasn't published until 1971 – and a comic opera, Don Procopio. He also began another symphony, his Roma Symphony, which wasn't completed until 1868.
When he returned to Paris, Bizet immersed himself in opera, attending the Paris premiere of Wagner's Tannhauser, a performance that was greeted by a stage-managed riot by the audience. He declared himself a big fan of Wagner and was later accused of being overly-influenced by him.
As I said, as a pianist, Bizet had showed considerable skill from his earliest years. A contemporary asserted that he could have assured a future on the concert platform but chose to conceal his talent "as though it were a vice".
In May 1861 Bizet gave a rare demonstration of his virtuoso skills when, at a dinner party at which Liszt was present, he astonished everyone by playing on sight and flawlessly, one of the maestro's most difficult pieces. Liszt commented:
I thought there were only two men able to surmount the difficulties ... there are three, and ... the youngest is perhaps the boldest and most brilliant.
Compositions followed at a pace. He wrote the Pearl Fishers in 1863, Ivan IV, an opera based on the story of Ivan the Terrible, in 1865, and the Fair Maid of Perth the following year.
Before the break, let's here something from The Fair Maid of Perth, Scene bohemiennes, performed by the Vienna Philharmonic under von Karajan. The YouTube recording of the Bohemian Dance is an unusual live one in that you will hear dancers on stage.
Incidentally, the plot-line in the opera The Fair Maid of Perth bears only a passing resemblance to Sir Walter Scott's novel of the same name.
Let me tell you some more about Bizet. Although he had some decidedly forceful opinions, he was said to be immature in his outlook of life, and in his attitudes to women. He did marry, at the age of 29 and against the wishes of his wife's family, who considered him an unsuitable catch: "penniless, left-wing, anti-religious and Bohemian". The couple had one son.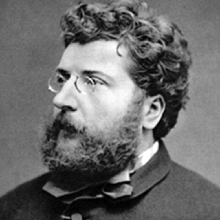 Bizet was said to have been plagued by an artistic conscience that accused him of preferring the facilely charming in music to the truly great. He was even ashamed of his admiration for the operas of his contemporary, Verdi.
Although he was warmly praised by Liszt, Saint-Saens, Berlioz and Gounod, he was obliged to undertake the kind of musical hackwork that only the most successful French composers were able to avoid. It's said this led to moodiness and a readiness to pick a quarrel.
He was deeply stirred by the events of the Franco-Prussian War and, during the siege of Paris, he served in the national guard.
For most of his life, Bizet had suffered from a recurrent throat complaint. He was a heavy smoker, and he may have further undermined his health by overwork during the mid-1860s, when he toiled over publishers' transcriptions for up to 16 hours a day.
As he once said: "Ah, music! What a beautiful art! But what a wretched profession!"
In 1868, he complained he was very ill with abscesses in the windpipe. In 1871, and again in 1874, he was disabled by severe bouts of what he described as "throat angina" and suffered a further attack in late March 1875.
At that time, Bizet was depressed by the evident failure of Carmen, which had just been premiered to less than glowing reviews, and he fell ill again in May of that year. At the end of the month, he went on holiday and took a swim in the Seine.
On the next day, 1st June, he was afflicted by high fever and pain, which was followed by an apparent heart attack. He seemed temporarily to recover, but in the early hours of 3rd June, his wedding anniversary, he suffered a fatal second attack. He was 36 years old.
The suddenness of Bizet's death, and awareness of his depressed mental state, fuelled rumours of suicide. Although the exact cause of death was never settled with certainty, doctors have determined the cause of death was "a cardiac complication of acute articular rheumatism".
The scandal caused by Carmen and what was considered its racy realism was only beginning to yield to admiration when Bizet died.
I now want to focus on music he wrote three years before he died. He wrote L'Arlesienne, The Girl from Arles, as incidental music to a play of the same name. The music comprised 27 numbers, some of them very short. Some were brief solos, some for a choir and small orchestra. Bizet himself played the harmonium at the premiere in Paris. The play flopped but the music didn't, and some of it is still regularly performed.
Despite the poor reviews of the incidental music, Bizet arranged his work into a suite of four movements. Now known as L'Arlésienne Suite No. 1, the suite used a full symphony orchestra but without the chorus. The first performance was in November 1872.
You are going to hear the London Symphony Orchestra under Claudio Abbado play all four movements, beginning with a prelude called March of the Kings. There's a particularly nice slow movement, in this suite, the third movement. Listen out for the horns mimicking the peal of church bells in the last movement.
That was Suite No. 1. Suite No. 2, by the way, was arranged and published four years after Bizet died using Bizet's original themes from the incidental music to the play I mentioned earlier.
Now I thought I would let you hear some more piano pieces, from a set of 12 miniatures for four hands called Jeux d'enfants, Children's Games. The entire set lasts about 23 minutes and each movement related to a particular game or toy. You are going to hear Walter and Beatrice Klien play La Poupee, The Doll and then La Bal, The Ball.
Well, we got through that programme without hearing any Carmen. There are those who regard Bizet's work as facilely charming and I think there may be some truth in that. That said, if Carmen could be seen as being facile and charming, well, that's fine by me. It's not one of the most popular operas in the repertoire for nothing.
However, no Carmen today. Instead, I'll close with two piano pieces taken from a cycle of six dreamy miniatures Bizet called Chants du Rhin, Songs of the Rhine, which he composed in 1865. The songs are grouped around the fourth piece, which is called La bohémienne, so disclosing that the overall theme concerns a beautiful and free-spirited gypsy girl. It's a theme Bizet returned to 10 years later in Carmen.
After La bohémienne, you will hear the last piece in the set, called Le Retour, The Return.
The pianist here is from Julia Severus.
Featured composers:
Featured genres:
Georges Bizet playlist
Each Spotify track has been chosen specifically; however, the corresponding YouTube videos may be performed by different orchestras.