Australia
I will start this with a warning. The subject is Australia, but only in the loosest sense. In other words, you might feel that the link between Australia and certain pieces is tenuous to say the least. And you would be right.
So on that basis, let's begin with the Prelude to Die Meistersinger von Nurnberg. As you listen to it, see if you can guess what on earth it has to do with Australia. This is the Chicago Symphony Orchestra conducted by Sir George Solti.
I have always thought of Die Meistersinger as a Wagner curiosity in that it is a comedy and doesn't feature myths or legends or the supernatural but is instead set in an actual period of German history.
Anyway, any guesses why I chose that piece? Well, it was the very first piece played at the first public concert in what was then called the Concert Hall of the Sydney Opera House. The Sydney Symphony Orchestra laid on an all-Wagner programme at the big event, held on 29th September 1973.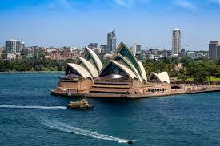 However, it was by no means the first performance at the opera house. That was given by the singer and political activist Paul Robeson, who gave a lunchtime performance for workers on the construction side of the building.
Robeson visited Australia in October and November 1960. The Australian Peace Council had invited him in 1950; soon afterwards, the United States government confiscated his passport because of his communist sympathies and loyalty to the Soviet Union.
When his passport was returned in 1958, Robeson and his wife Eslanda went on many singing tours, in an effort to earn some of the money lost during the unfriendly years of the 1950s, and to advocate a number of political causes, such as workers' rights, international peace, and gender and racial equality. The last of those tours was to Australia and New Zealand in 1960, and it was then that he christened the Opera House by singing on the concrete foundations of the Concert Hall stage.
Here's a bit of his memorable performance, which I'm afraid I have on YouTube only.
Incidentally, the original estimate for the cost of the Sydney Opera House was $7 million. It actually cost $102 million, and construction over-ran by 10 years. It makes the construction of the Scottish Parliament building seem like a rush job done on the cheap.
Next up is perhaps the best-known Australian composer, Percy Aldridge Grainger. A few weeks ago, Alastair MacFarlane's music group heard Grainger's best-known work, Country Gardens. It sounds the most English piece imaginable, and yet it came from an Aussie.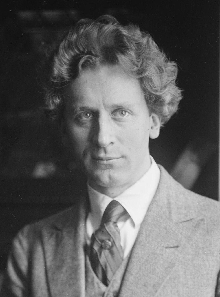 Musically, Grainger is particularly known for his interpretation of old folk tunes, and the next piece is a good example. It's called Molly on the Shore and the title comes from an Irish reel Grainger discovered, but there are actually two reels in this piece, each woven cunningly together.
Grainger originally wrote this work for an orchestra but this is a piano arrangement of it, being played by Grainger himself. It begins simply but eventually gathers a rich "muddle", as Grainger put it, of surrounding counter-melodies.
Grainger was an eccentric and was not entirely likeable. He was an avowed racist, and he disliked people from Mediterranean countries to such an extent that he refused to use Italian musical terms in his scores. He also had what I can only describe as unorthodox personal tastes – and if you want to get that euphemism translated, you're welcome to Google him.
Grainger was born in 1882 and left Australia when he was 13 to study music in Frankfurt. Between 1901 and 1914 he was based in London, where he established himself first as a society pianist and later as a performer, composer and collector of original folk melodies. As his reputation grew he met many of the key figures in European music, forming friendships with Delius, Grieg and Vaughan Williams.
In 1914, he moved to the United States, where he lived for the rest of his life, although he travelled widely in Europe and in Australia. He served as a bandsman in the United States Army in 1917–18, and took American citizenship in 1918.
After his mother's suicide in 1922 he became increasingly involved in educational work. He also experimented with what he called 'free music machines', complex devices like primitive synthesisers that created music without human intervention.
In the 1930s he set up the Grainger Museum in Melbourne, his birthplace, as a monument to his life and works. The museum contained some of his more unsavoury belongings relating to his, er, personal tastes, but again, that's for your own research.
He certainly had an ego. He once devised his own composer-rating system, based on beauty, originality and so on, and placed himself ninth in a league of the world's best-ever composers, below Delius but above Mozart and Tchaikovsky. He rated Bach No. 1, by the way.
Grainger got married on the stage of the Hollywood Bowl in front of an audience of 20,000. As one of the most gifted concert pianists of his generation, he was earning the equivalent of £60,000 a week.
Yet Grainger, who died in 1961, was an unaccountably odd man who never quite lost the taint of an outsider. He was a loose cannon whose eccentricities threatened to overshadow his achievement.
When I was researching this I found that Grainger had recorded an arrangement of Londonderry Air. Frankly, I hated what he did with a beautiful tune you will all know, but let's see what you think of it. This is a digitally remastered recording of a performance by him of his arrangement.
If Percy Grainger spent his life under something of a cloud, the next composer certainly died under one.
In 1975 an Australian, Malcolm Williamson, was somewhat controversially chosen to be the first non-Briton to hold the post of Master of the Queen's Music, a post in the royal household broadly comparable to that of the Poet Laureate. Michael Tippett and Malcolm Arnold were overlooked for the job and William Walton remarked that "the wrong Malcolm" had been chosen.
Nevertheless, chosen he was, and Williamson wrote a number of pieces connected to his royal post. However, his tenure was always controversial, not least when he failed to complete his 'Jubilee Symphony' to mark the 25th anniversary of the Queen's accession to the throne in 1977.
Williamson was reputedly an alcoholic when he died in a Cambridge hospital in 2004. No-one from the royal family attended his funeral, and he was the first Master of the Queen's Music in over a century not to be knighted.
This is the second movement of his First Symphony, performed by the Iceland Symphony Orchestra conducted by the English conductor Ruman Gamba.
And now for something a bit silly. Paulo Giorza was born in Milan in 1832 and emigrated to Australia in 1871.
He had an amazingly successful career, writing largely polkas and waltzes. He wrote the next piece almost as soon as he arrived in Australia.
The Trickett Gallop celebrated the career of Ned Trickett, a rower who became the first Australian to be a world champion in any sport when he won the World Sculling Championships, an event held on the Thames. It was a big deal. He collected £400 in prize money and 25,000 people greeted him when he returned to Sydney.
The Trickett Gallop comes from an album called Australia Unite: Songs and Dances of Colonial Australia, and I have chosen it to show that people in Victorian Australia tried to buy into a cultural life that emulated the one they had left behind in Europe. So if Europeans listed to waltzes and polkas at that time, which they did, so too would new Australians.
The classical guitarist John Williams, was born in Melbourne in 1941, has been described as the most technically accomplished guitarist the world has seen.
His family moved to England when he was 11 and he was initially taught guitar by his father. He attended summer courses with the great Andres Segovia and later attended the Royal College of Music in London, studying piano because the college didn't have a guitar at the time. Upon graduation, he was asked to create a guitar department and so from 1960 to 1973 he was professor of guitar at the college.
He made his first professional performance in 1958 and has gone on to play all over the world, making countless recordings. He gained wider public recognition for his recording of Cavatina, which was used as the theme tune for the film The Deer Hunter.
This is John Williams playing Cavantina.
For some reason we are often challenged to name 10 famous Belgians. Well, if at the beginning of the 20th century someone in the UK was asked to name 10 famous Australians, they would be struggling to go beyond Ned Kelly and Nellie Melba.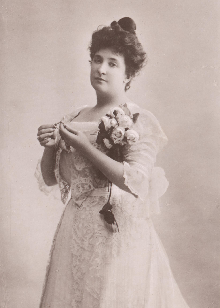 Nellie was born Helen Porter Mitchell in Victoria in 1861, nine years after her parents emigrated from Forfarshire, where her father was a stonemason, nine years earlier. Nellie, who took the name 'Melba' from Melbourne, which became her home town, studied singing in Australia before going to Europe, and quickly became leading lyric soprano at Covent Garden. She soon achieved success throughout Europe and the United States.
Her repertoire was small; in her whole career she sang no more than 25 roles and was closely identified with only 10. She was known for her performances in French and Italian opera, but sang very little German opera.
She was made a Dame in 1918 and, of course, is remembered not only for her voice: The Australian $100 note features her image. Melba toast and peach Melba were named after her, as is a suburb of Canberra. She is also well remembered in Australia for her seemingly endless series of "farewell" appearances. From this, she is remembered in the Australian expression "more farewells than Dame Nellie Melba". She actually made her farewell performance, at Covent Garden, in 1926.
Incidentally, her home in Australia was designed by Percy Grainger's father.
There are those who have argued that her voice was absolutely perfect in every sense but she did have – and continues to have – her critics, not least because she was a difficult and often very rude diva. Sir Thomas Beecham once said that she was "uninterestingly perfect, and perfectly uninteresting".
Nellie Melba died in 1931 of septicaemia following facelift surgery. Her funeral was a major national event.
You are about to hear a 1906 recording of Nellie Melba singing Mi Chiamano Mimi, from La Boheme, with composer Claude Debussy conducting. Melba made her debut in La Scala in Milan in 1893 and while in Italy travelled to Lucca to study the opera with Puccini. Apparently, he called at her hotel once and after lunch marked her copy of the score writing how the opera should be sung.
!S[Play La Boheme… 4 mins 12 secs]spotify:track:7B1zeBwoKLf6hh4zmrx9Cd)
The next piece is something of a personal indulgence on my part.
Sir Charles Mackerras, who died eight years ago aged 84, was a great Australian conductor. He was actually born in the United States, to Australian parents who took him back to their home country when he was two.
Mackerras conducted most of the world's top orchestras, and from 1992 to 1995 he was principal conductor of the Scottish Chamber Orchestra. At the time the company I worked for was one of the orchestra's main sponsors, and I well recall seeing him conduct in Edinburgh, after which I sat at his table for dinner. Actually, he had only a bowl of soup as he had to leave because he was tired. I can recall that he was a down-to-earth chap with a pleasant sense of humour.
This is the finale of Beethoven's The Creatures of Prometheus, which Mackerras conducted that night. By the way, just as Die Meistersinger is something of a Wagner curiosity, _The Creatures of Prometheus _is unique for Beethoven in that it's his only full-length ballet. While the music was generally well received, it was thought that Beethoven played too little regard for the dancing.
Peter Sculthorpe died just a few years ago at the age of 85. He was born in Tasmania but studied music in Melbourne and later won a scholarship to study in Oxford.
I have chosen a piece by Sculthorpe because he is the first non-indigenous Australian composer to create a distinctly Australian sound. The Fifth Continent, which he wrote in 1963, is something of a masterpiece. It's a series of suites written for narrator and orchestra which explore Australia in music and words and is based on text by D.H. Lawrence. There's a suite called Outback, one called Pacific and this one, Small Town, which perfectly evokes small-town life in Australia. The words come from Lawrence's novel, Kangaroo, in which he describes the New South Wales coastal town, Thirroul, where he lived for several months in 1923.
Sculthorpe envisaged it as the quintessential Australian town, frozen in a more innocent time. He wanted his music to "sing of all small Australian towns".
This is Small Town, from Peter Sculthorpe's The Fifth Continent. It's a piece that was a particular favourite of Aaron Copland.
Margaret Sutherland is among the best-known female composers Australia has produced and is known as the mother of Australian classical music. She was born in Adelaide to Scottish-Australian parents in 1896 and died in 1984 and had a rich and varied life as a pianist, composer and teacher.
"The world at large thinks a woman can't be creative," she once wrote. "A woman can contribute in a special way. I don't think that women want to write the same type of thing as men, but their contribution is no less important."
Sutherland's life work was the promotion of classical music in Australia, and she worked tirelessly to bring to the public the music of contemporary Australian composers.
I've chosen the third movement of her Concerto Grosso, here performed by the Melbourne Symphony Orchestra conducted by John Glickman.
A total of 8,709 Australians were killed and 17,260 were wounded in Gallipoli between April 1915 and the first few days of 1916. Among those who witnessed the slaughter and who were wounded – in his case twice – was Lieutenant Frederick Septimus Kelly, a gifted young composer who was born in Sydney and who won a gold medal rowing for Australia in the 1908 London Olympics.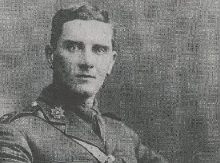 With death and destruction all around, Kelly sat in a trench at Gallipoli and composed a moving sonata for his girlfriend in Australia, a beautiful young Hungarian violinist called Jelly D'Aranyi. There's a programme dedicated to her elsewhere on this website.
The composer wrote to his girlfriend, "The sonata is all there in my head but not yet on paper. You must not expect shell and rifle fire in it! It is rather a contrast to all that, being somewhat idyllic."
And comrade wrote of Kelly: "He had a tiny little room the size of a bed, and he had a spot, tunnelled into the side of a trench, to put his briefcase. It had a corrugated iron roof, and he was sitting there late at night with a candle writing his music."
Months after writing his sonata for his loved one, Kelly was sent to France and in November 1916, he was killed when rushing a German machine gun post in the last days of the Battle of the Somme. He was 35.
At the memorial service for Frederick Septimus Kelly, his girlfriend played their sonata, his Gallipoli Sonata for Violin and Piano in G Major. It must have been chokingly emotional for her. Let's hear it.
I'm going to finish with another Sutherland and another musician with Scottish ancestry. Joan Sutherland's parents were from Scotland's north coast and emigrated to Sydney, where Joan was born in 1926.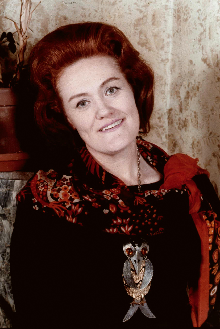 She was to become 'La Stupenda', and has been described as the greatest soprano ever. As an operatic performer she wasn't a great actor, and nor was she a great beauty. I've read critiques of her work claiming that it was difficult to hear the words. Her diction wasn't great. Apparently consonants weren't her strength.
However, it's been universally agreed that Dame Joan Sutherland, who died in Switzerland in 2010, had the most secure and compelling soprano voice of the age. Pavarotti called her The Voice of the Century, and he should know.
See what you think. This is her singing Solveig's Song, from Grieg's Peer Gynt.
Featured composers:
Featured genres:
Australia playlist
Each Spotify track has been chosen specifically; however, the corresponding YouTube videos may be performed by different orchestras.