Jelly d'Aranyi
Some time ago I did a talk on music with an Australian connection and it featured this piece...
That was from The Gallipoli Sonata, which was written by an Australian composer, Frederick Septimus Kelly, while he was serving in Gallipoli during the First World War. Kelly wrote the sonata for his girlfriend, a gifted violinist, whom he first met when she was a child.
A year after he composed the piece Kelly was killed in the Battle of the Somme in 1916. At his memorial service, his girlfriend played the sonata.
The girlfriend was a Hungarian, Jelly d'Aranyi, and she is the subject of this programme.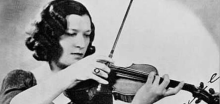 I used the word 'girlfriend'. However, it's been claimed by the editor of Kelly's diaries that there was no love affair although Jelly thought there was a romantic connection. Nevertheless, she kept a photograph of Kelly at her bedside until the day she died in Florence, in March 1966.
Whatever the case, this is the story of a beautiful and supremely gifted violinist, who was feted by Ravel, Bartok, Vaughan Williams, Elgar and Holst, among others. It's also the story of a long forgotten masterpiece, a seance and the Nazis.
Let's start by listening to a piece played by Jelly. This is her playing the 24th of 24 Caprices for Solo Violin by Nicolo Paganini, the piece that became the theme tune for The South Bank Show. Paganini dedicated each caprice to someone but this one he dedicated to 'Nicolo Paganini, sepolto pur troppo' (to myself, regrettably buried). It uses a wide range of techniques, which Jelly shows off brilliantly. This recording is from 1923.
Jelly d'Aranyi was born in Budapest into an assimilated Jewish family – her father was the chief of police in Budapest. Her sister Hortense played piano until she got married, and her other sister was also a gifted violinist, who enjoyed a flourishing career under her married name, Adila Fachiri.
Jelly, who once said: 'I am the only woman who has ever had my name', was the grand-niece of Joseph Joachim, one of the star violinists of the 19th century, who died when she was 14. Even when she was that age, Joachim recognized Jelly's musical ability. 'A talent like her is born once a century', he said.
Jelly's first instrument was the piano but when she was 10 she switched to the violin, and later attended the Budapest Academy, where she received instruction from Jenö Hubay, who in 1928 recorded this piece, which he wrote, with Jelly and the Irish pianist Ethel Hobday.
That was from Six Hungarian Poems, written by Hubay in 1890.
Jelly's musical career began in 1908 with a series of joint recitals with her sister Adila, who used to play a 1715 Stradivarius that had been left to her by Joachim. The following year, the two sisters performed in England to rave reviews, and they settled there in 1913, 'trapped' by the onset of the First World War. Within a few years, Jelly surpassed the musical reputation of her sister, who was 10 years older.
Jelly had a vibrant personality which was reflected in her playing. Her style was said to be 'passionate, exhibiting a true gypsy exuberance'. One of her admirers wrote: 'Miss Jelly d'Arányi is one of the greatest female violinists of our time, if not the greatest. She stands out a head above her contemporaries.'
Someone else once described her as a "gutsy firebrand on the fiddle".
Let's hear Jelly again. Here, she's playing once again with her sister and Ethel Hobday.
That was from Bach's Concerto in C Minor.
Jelly D'Aranyi's colourful personality made excellent newspaper copy, and she quickly became a darling of the classical music world.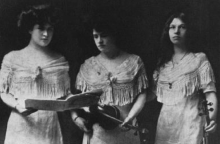 Her many friends in the UK included Prime Minister Herbert Asquith and Sir Edward Elgar, who protected the sisters' precarious status as Hungarians during the Great War, and they eventually took British citizenship.
Actually, Elgar is known to have had a crush on Jelly after his wife Alice died in 1920 at the age of 72. He was 63 at the time. Despite their age difference, he treated her to expensive dinners and a trip to the British Museum. Apparently, the experience left Jelly cursing old men.
By the way, there is a 1996 docu-drama called Elgar's Tenth Muse, which dramatises a moving moment in Elgar's life. It is set in 1919, with Elgar tormented by self-doubt and convinced he would never write again. It was then that he heard Jelly d'Aranyi. Elgar was entranced by her playing and called her his darling 10th muse. James Fox played Elgar and a Bosnian actress Selma Alispahic played Jelly.
Jelly's style is thought to have worked well for many modern compositions, including a number of important works written for and dedicated to her by major contemporary composers.
Bela Bartók wrote two violin sonatas for Jelly, the first which she performed with him in London in March 1922 and the second which she first performed with Bartok in May 1923. Bartók too was attracted to Jelly; she actually ended up refusing to work with him outside of rehearsals because she was so uncomfortable with his obvious interest in her. This is the first violin sonata's third movement, played by the German violinist Christian Tetzlaff.
I should say that for this programme I decided to feature some music played by Jelly herself, even though the sound quality may not be great, and some music played by others but with better sound quality, such as this piece.
Other pieces written specifically for Jelly included Vaughan Williams' Concerto for Violin and String Orchestra, better known as his Concerto Accademico; Ethyl Smyth's Concerto for Violin and Horn; and Holst's rarely played Double Concerto for Violins, which he wrote for Jelly and her sister in 1929. This is the first of three movements of that piece, played by the Scottish violinist Andrew Watkinson with the City of London Sinfonia under Richard Hickox.
Another composer who wrote for Jelly was Maurice Ravel, who heard Jelly perform one of his works in a private performance with a few friends in London in 1922.
Immediately after the concert Ravel pressed Jelly, who was a brilliant performer of Hungarian gypsy music, to play numerous gypsy melodies for her. She obliged, and he asked her to play more, and more. By 5am, she was still playing. Everyone present was exhausted, except, it's said, Bartok and Jelly.
The result of this encounter is Ravel's virtuoso classic, Tzigane, which he wrote for her. She premiered it in London in April 1924, just a few days after Ravel finished what he called his Hungarian Rhapsody, a piece, which is full of challenges for both violinist and, it's been said, for the first-time listener.
However, I find it absolutely enchanting, the long violin solo at the start giving way to some real pyrotechnics. It's a piece that really shows off the violin.
It's a piece of music that seems to demand that caution be thrown to the wind, and Jelly certainly did that. Ravel is known to be the precise and very specific composer, writing down the music exactly as he thought it should be played.
And yet when he heard Jelly go slightly off-piste the first time she played it, he was enthralled by her slight improvisation. "I don't know what she did," he said, "but I liked it."
I don't have a recording of Jelly playing Tzigane, even though she performed it regularly. Here it is, played by Itzhak Perlman and the LSO, under Andrew Previn in a 1975 recording. If you haven't heard Tzigane before, I'd urge you to stick with it.
I promised you a story about the Nazis, a séance, and so on, but before I tell you more, let's hear more of Jelly's playing. This is Boccherini's Trio in C Minor, and Jelly is again playing with her sister and Ethel Hobday.
The following story is the subject of a work of fiction, Ghost Variations, written by Jessica Duchen and published two years ago. I decided not to read the book while researching this programme, because I did not want to confuse fact with fiction. I will stick to the facts, as best I can.
Robert Schumann, one of the greatest of German romantic composers, had a glittering career but died a horrible death in an asylum for the insane in 1856.
The cause of his madness can never be known for sure. A brain tumour and syphilis have both been suggested, as has mercury poisoning caused by the 'treatment he received for syphilis. However, tertiary syphilis brought about by a liaison with his father's housemaid is thought the most likely cause. Whatever the cause, it was felt that his violin concerto, his last major work, reflected Schumann's mental state.
The concerto was composed three years before his death and only months before he attempted suicide, and was written for Jelly d'Aranyi's great-uncle, Joseph Joachim, who I mentioned earlier.
Joachim never performed the work but kept the manuscript, and indeed retained it for the rest of his life.
He felt strongly that the concerto was morbid and a product of Schumann's madness. He and Schumann's widow, Clara, decided the concerto was unworthy of the composer and that it should not be published or performed.
And so the manuscript was deposited in the Prussian State Library with a proviso that it was not to be released until 1956, a full century after Schumann's death.
There had long been curiosity about the piece but little could be done to effect its release from the dusty archive.
In 1933, Jelly D'Aranyi, then aged 40 and backed up by her sister Adila, who was now known as a 'psychic sensitive', held a séance in which Jelly claimed to have received a communication via a ouija board from the spirit of Robert Schumann, asking her to find and perform his long-unplayed concerto.
And so a premiere featuring Jelly, the BBC Symphony Orchestra and Sir Adrian Boult was subsequently announced.
Adila, by the way, wrote or co-wrote a book on spiritualism called Widening Horizons, and apparently she "possessed the rare gift of transmitting spiritual waves in a waking state and fully conscious, never falling into a trance."
What happened next is a long story which I'll have to edit. The then young Jewish superstar violinist Yehudi Menuhin, who lived in California, was sent a copy of Schumann manuscript, and itched to premiere the work. Soon, a world premiere was set up for October on 3rd October 1937 in San Francisco, with Menuhin performing.
However, Jelly intervened and claimed the right of first performance for herself, on the basis of the spiritual message.
All of this was to no avail, though. With the original manuscript held in a library in Berlin, the Nazi regime in Germany had other ideas. Mendelssohn was Jewish, and the Nazis sought to replace his music with that of non-Jewish composers. They felt that Schumann concerto could be used to enhance National Socialist propaganda and could take the place of Mendelssohn's eminently hummable but forbidden Violin Concerto on the concert repertoire.
And so with the world copyright to the concerto held in Germany, the Nazis insisted that it should be premiered by a German, Georg Kulenkampff. Both he and the composer Paul Hindemith worked on Schumann's score in some detail and Kulenkampff and the Berlin Philharmonic gave the first performance on 26th November 1937, 84 years after the work was composed. The concert was attended by Hitler and was preceded by a speech by Goebbels.
Menuhin gave the second performance, in the Carnegie Hall, New York, 11 days later, and repeated this with the St Louis Symphony Orchestra just over a fortnight after that. Jelly d'Aranyi gave the first London performance, with the BBC Symphony Orchestra at the Queen's Hall in February 1938. Her concert was broadcast and the slow movement recorded, but poorly, by an amateur.
This is Menuhin and the New York Philharmonic under Sir John Barbarolli giving the American premiere. I was uncertain which movements to use so I've decided to go for the entire concerto, without further comment, given its historical significance.
After World War Two the aging and ailing Jelly played very little. In the last two decades of her life she performed solo or with her sister Adila in private houses or at gatherings of friends.
On some occasions she played in public with her niece Adrienne, who was also an outstanding violinist. Jelly moved to Florence with Adila in 1957. She gave her last recital there on 5th October 1965, and died aged 72 five months later.
Before we go, let's hear more from Jelly. Here, she's playing Louis Spohr's Duet in D Minor with her sister Adila in 1923.
Finally, Jelly and Ethel Hobday are playing Mozart's Divertimento in D Major.
Featured composers:
Featured genres:
Jelly d'Aranyi playlist
Each Spotify track has been chosen specifically; however, the corresponding YouTube videos may be performed by different orchestras.