Jean Sibelius
If you include his youth works but omit works now in fragments only, Jean Sibelius wrote around 600 pieces.
"I am a man of the orchestra," he once proclaimed, and it's certainly the case that his major orchestral works are generally regarded as something akin to national monuments in his native Finland. His symphonies, of which he wrote seven, are among his most popular works but in this programme I thought I would focus on some of his other works, including miniature pieces. After all, more than half of his output were pieces that lasted fewer than four minutes.
I don't always feature music in a particular programme in chronological order but I shall with this one on the life and largely less well-known works of Jean Sibelius. Before we go any further, let's listen to his earliest known composition. He wrote Vattendroppar (Water Drops), a duo for pizzicato violin and cello, when he was nine.
Sibelius was born in 1865 in Hämeenlinna, about 60 miles from Helsinki and one of the most important Finnish cities until the 19th century. At the time, the town was part of the Grand Duchy of Finland, an autonomous part of the Russian Empire. His father was a Swedish-speaking doctor who died when Sibelius was three and the boy was raised in his widowed mother's family home.
When he was a boy at home his folks called him Janne, rather than use his actual name – Johan Julius Christian Sibelius. However, in his student days Sibelius decided to adopt the French name Jean, calling it his "music name".
He started his musical life at the age of seven, learning to play his family's upright piano and learning to read music. He later took up the violin, which he preferred, and would play trios with his elder sister Linda on piano and younger brother Christian playing cello. On taking violin lessons, he determined to be a great violin virtuoso, and did in fact become an accomplished player. In time, though, he gave up his hopes of becoming an instrumentalist, choosing to be a composer.
Like his father, Sibelius had Swedish as his first language but went to a Finnish-language school, where he mastered the language and did well enough to gain a university place. In 1885 he began to study Law but gave it up to attend the Helsinki Music Institute. His Music studies continued in Berlin and Vienna, where his musical horizons widened. He took in the premiere of Richard Strauss's Don Juan, proclaimed Bruckner to be the greatest living composer and enjoyed music by Beethoven and Wagner. He also worked on the next piece you are going to hear, his Overture in E Major.
It was completed in 1891 and I think gives a hint of the great symphonies to come.
Sibelius became a name to be reckoned with after the premiere in Helsinki in 1892 of Kullervo, an orchestral work inspired by the Kalevala, a 19th century work of epic poetry based on ancient Finnish folklore and mythology.
Kullervo is a suite of symphonic movements that's often called a choral symphony as two of the five movements make use of a men's chorus. The story told in this music is of the character Kullervo, a complex, tragic figure, who spent his youth in slavery and who, in the last movement, commits suicide.
You are going to hear the third movement, Kullervo Goes to War, played by the Finnish Radio Symphony Orchestra.
While he was studying Sibelius travelled overseas, to Italy, the other Scandinavian countries, the UK, France, Germany and later the USA. In 1892 he married Aino and the couple honeymooned in Karelia, the home of the Kalevala and the later inspiration for his famous Karelia Suite. The couple went on to have six daughters.
The last piece you heard was from Kullervo, which was recognises as being "Finnish music" – something that meant much to the composer. The Karelia Suite was premiered a year after Sibelius married, and his reputation was sealed.
Let's hear more music now, and the Menuetto for Orchestra, written in 1898 and based on a minor orchestral work composed a few years earlier. It became a popular piece in Helsinki, where people used to sing mocking words to it: "Now I'm going off to Kämp again" – a reference to Sibelius's regular drinking bouts at the Kämp Restaurant. We'll pick up on Sibelius's drinking later.
Sibelius was around this time extremely prolific. His Lemminkäinen Suite was premiered a couple of years before the last piece you heard and his 1st Symphony came a year after it in a programme that featured a patriotic piece, Song of the Athenians, that earned Sibelius the status of national hero. His 2nd Symphony was premiered in 1902 to great acclaim and his Violin Concerto followed in 1904.
That year also saw the premiere of the next piece you are going to hear, and it's one that has become one of the composer's signature works. Valse Triste, Sad Waltz, was originally part of the incidental music Sibelius wrote for a play, "Kuolema" (Death).
The original programme note described the scenario for the waltz thus:
It is night. The son, who has been watching beside the bedside of his sick mother, has fallen asleep from sheer weariness. Gradually a ruddy light is diffused through the room: there is a sound of distant music: the glow and the music steal nearer until the strains of a waltz melody float distantly to our ears. The sleeping mother awakens, rises from her bed and, in her long white garment, which takes the semblance of a ball dress, begins to move silently and slowly to and fro. She waves her hands and beckons in time to the music, as though she were summoning a crowd of invisible guests. And now they appear, these strange visionary couples, turning and gliding to an unearthly waltz rhythm. The dying woman mingles with the dancers; she strives to make them look into her eyes, but the shadowy guests one and all avoid her glance. Then she seems to sink exhausted on her bed and the music breaks off. Presently she gathers all her strength and invokes the dance once more, with more energetic gestures than before. Back come the shadowy dancers, gyrating in a wild, mad rhythm. The weird gaiety reaches a climax; there is a knock at the door, which flies wide open; the mother utters a despairing cry; the spectral guests vanish; the music dies away. Death stands on the threshold.
This, then, is Valse Triste
The year 1904, when that piece was written, also saw Sibelius compose his Violin Concerto, his only concerto.
It's a wonderfully symphonic piece of music and yet its premiere, in Helsinki, was an unmitigated disaster. Sibelius had originally intended that the renowned violinist Willy Burmester would play the premiere in Berlin but for financial reasons Sibelius decided that the premiere would be in Helsinki. Burmester couldn't make the trip and so the honour fell to Victor Novacek, who was a teacher and not a recognised soloist. What's more, Novacek had little time to prepare and, given that the concerto could hardly be described as an easy piece to play, the premiere didn't go well.
Later, Sibelius reworked the concerto, taking out parts that hadn't worked, and the new version was premiered the following year, with Richard Strauss conducting.
After that, the concerto was largely forgotten until 1991, when Sibelius's heirs allowed one live performance and one recording to be made.
This is the third movement.
_Belshazzar's Feast _is incidental music by Jean Sibelius to a play of the same name. In 1906 he composed 10 movements for orchestra and singers, and the following year he distilled from them an orchestral suite of four pieces, which is now more frequently performed than the original score.
You are going to hear a nocturne which was originally written as the prelude.
This was a time in Sibelius's life when he mixed composing with conducting and was extremely successful at both. However, it was a lifestyle that took its toll. He was both drinking and eating in excess, spending huge amounts of money on champagne and lobster in Helsinki's finest establishments.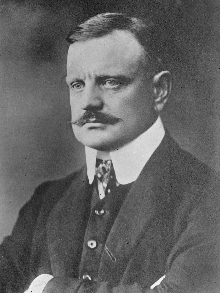 In 1907 he had a major and successful operation for suspected throat cancer and the following year he was hospitalised, his smoking and drinking having become life-threatening. He vowed after his operation never to drink again but that was a pledge he most definitely failed to keep.
Sibelius was a fair violin player and as a student wrote quite a bit of chamber music, including a number of string quartets. In later life, however, he wrote only one, his five-movement String Quartet in D Minor, composed in 1909 between his 3rd and 4th Symphonies. Sibelius gave this work a Latin title, Voces intimae, meaning Inner Voices.
I have chosen the finale for this programme. It's music that has what has been rightly called an "irresistible momentum" and to my ears brings to mind a very lively folk fiddling session. At first, the movement is marked allegro, then più allegro (more lively), then poco a poco più allegro ed energico (little by little more lively and energetic), and then sempre più energico (always more energetic). It's a great piece for the players to have fun with, assuming they are up to the job.
I want to jump a few years now, to 1914, and a work commissioned by American millionaire Carl Stoeckhal for the Norfolk Music Festival – that's Norfolk, Connecticut, by thee way, as opposed to the one in England. The piece is The Oceanides, which someone described as one of the most beautiful pieces of sea music ever written.
Just think about that. There are a few strong contenders, such as Debussy's La Mer or Mendelssohn's Hebrides Overture. However, I think this single-movement tone poem deserves the plaudits it received when first performed. The title refers to the nymphs in Greek mythology and the music reflects both the playful activity of the nymphs and the ocean in all its majesty. Listen out for, at first, a tranquil ocean, then a gathering storm and then the fury of crashing waves.
The premiere of that piece was conducted at Norfolk by Sibelius himself, the musicians having been drawn from the New York Philharmonic, the Boston Symphony and the Metropolitan Opera orchestras.
After it, Stoeckel, who funded the work, recalled:
Everyone who was fortunate enough to be in the audience agreed that it was the musical event of their lives, and after the performance of the last number there was an ovation to the composer which I have never seen equalled anywhere, the entire audience rose to their feet and shouted with enthusiasm, and probably the calmest man in the whole hall was the composer himself; he bowed repeatedly with that distinction of manner which was so typical of him ... As calm as Sibelius had appeared on the stage, after his part was over he came up stairs and sank into a chair in one of the dressing rooms and was very much overcome. Some people declared that he wept. Personally I do not think that he did, but there were tears in his eyes as he shook our hands and thanked us for what he was pleased to call the "honor we had done him."
The First World War brought about a certain coolness in how Sibelius's work was perceived. His music was rarely played outside Scandinavia and the USA. Certainly, in Germany there was little appetite for music by an enemy national and there was little love for Finns in Russia. In 1915, then, the Helsinki City Orchestra conducted by the composer himself premiered his Two Serenades for Violin and Orchestra, both of which were completed a couple of years earlier. They aren't performed often these days but if you listen to this, the 2nd, with Anne-Sophie Mutter playing, you may well wonder why.
The 25th anniversary of the opening of a sawmill in the middle of Finland is the least likely inspiration you can imagine for a piece of music of pure beauty … but it was.
Sibelius was asked in 1922 to write a cantata to mark the occasion but instead wrote something for a string quartet which he later adapted for strings and timpani. When I saw later, I mean many years later. Sibelius, aged 73, himself conducted the premiere of this new version on New Year's Day 1939 and it's said to be something akin to a religious statement that was given particular poignancy by the political situation at the time.
This premiere of Andante festivo was performed for a live, worldwide radio broadcast, making it the only sound document of Sibelius interpreting his own music. It's that very recording you are going to hear. I find it a moving, almost luscious, piece that would surely have been wasted had it been left to four string players.
In 1926 Sibelius wrote incidental music for "The Tempest" and a tone poem – something of a speciality for him – called Tapiola, which portrays a forest spirit from Finnish legend. From then on, he wrote virtually nothing else, despite the fact that he was to live 30 more years. They called this part of Sibelius's life "The Silence of Järvenpää", after the place he called home.
I said he wrote virtually nothing. In fact, he had an unsuccessful bash at an 8th Symphony, which he later burned, and produced some Masonic music that's maybe best forgotten.
He remained interested in music. He had a particular regard for Shostakovich and Bartok, and is said to have admired Richard Strauss, and in the 1950s he promoted the work of a young Finnish composer, Einojuhani Rautavaara.
Sibelius died of a brain haemorrhage on 20th September 1957 at the age of 91. The General Assembly of the United Nations was in session when news of his death broke and it stood silent in unison in tribute. His Andante Festivo was played at his funeral.
I had determined when I decided to put this programme together not to feature any or many of Sibelius's better-known works, so there have been none of his symphonies (imagine, a Sibelius programme without his 5th!) and nothing from Lemminkäinen Suite, such as The Swan of Tuonela.
However, before closing I can't resist suggesting you listen to a performance of a piece of music that will forever be associated with Sibelius's native land: Finlandia. Sibelius wrote this tone poem in 1899, its stirring music evoking the struggle of the country's people to assert their nationality.
However, there's nothing stirring about this last piece. It's the very serene Finlandia hymn that Sibelius later reworked as a stand-alone piece. Curiously, it became the anthem of the breakaway African state of Biafra. However, it's now regarded as an alternative national anthem of Finland.
Finland, behold, thy daylight now is dawning,
the threat of night has now been driven away.
The skylark calls across the light of morning,
the blue of heaven lets it have its sound,
and now the day the powers of night is scorning:
thy daylight dawns, O Finland of ours!
Finland, arise, and raise towards the highest
thy head now crowned with mighty memory.
Finland, arise, for to the world thou criest
that thou hast thrown off thy slavery,
beneath oppression's yoke thou never liest.
Thy morning's come, O Finland of ours!
Featured composers:
Featured genres:
Jean Sibelius playlist
Each Spotify track has been chosen specifically; however, the corresponding YouTube videos may be performed by different orchestras.