Latin America
Have you heard of Sistema Scotland? It's a music education and social development initiative which helps young people in some of Scotland's most deprived areas to reach their full potential by developing confidence, discipline, teamwork and aspiration – and it does so through music.
It's based on El Sistema, a programme founded in Venezuela in 1975 to provide musical training, as well as work, to young people. Sistema has spread throughout the world, and in Scotland there are centres in Raploch in Stirling, Govanhill in Glasgow, Torry in Aberdeen and Douglas, Dundee.
El Sistema was the brainchild of a Venezuelan called Jose Antonio Abreu, who would contend that an orchestra represented the ideal society and the sooner a child was nurtured in that environment the better for all.
Its early success led to the creation of the National Network of Youth and Children's Orchestras of Venezuela, and many young musicians graduated from it to the now well-known Simón Bolívar Youth Orchestra.
In 2007, the Simón Bolivar performed in the Carnegie Hall and at the Proms with its young conductor Gustavo Dudamel, who is El Sistema's biggest individual success stories. He's a Venezuelan who got involved with the programme when he took up the violin at the age of 10. Now, he is the music director of the Simon Bolivar and of the Los Angeles Philharmonic, and he has guest-conducted many of the world's top orchestras.
The Simón Bolivar were an instant success at the Proms, not least because of their youthful showmanship. They wore blue, red and yellow jackets – the colours of the Venezuelan flag – and swayed, gestured, vocalised and generally enjoyed themselves throughout their performance. One critic described it as the greatest Prom concert of all time.
But one of the things that made concert stand out was its programme: it gave the audience a very lively introduction to classical music from Latin America.
So what's different about this music? Think of what might be called the popular music of Latin America: Samba, Salsa, Rumba, Merengue and Bossa Nova. They all to some extent betray their roots in Spain and Portugal, Africa and the music of the indigenous people of South and Central America. The same can be said of classical music.
The pieces you will hear were all written in the 20th century by composers who were exploring ways of developing a unique sound, just as, for example, Aaron Copland did for North American music.
That sound is quite distinctive and I think it's a pity that the composers I will mention are not, like so many of their North American counterparts, well-known in Europe.
I'll begin with a piece from Mexico that is very much part of the Simon Bolivar Symphony Orchestra's repertoire. In fact, this recording is, like a few you will hear, by the orchestra, with Dudamel conducting. It was composed by Silvestre Revueltas, a Mexican who was born on the last day of the 19th century.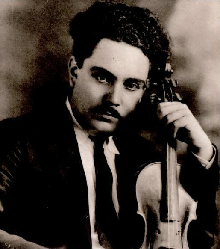 The piece, Sensemaya, is regarded as his masterpiece. I've a wee story about it: I'm not allowed to play it at home.
The thing is, my wife has an exaggerated fear of snakes and I made the mistake of telling her that Sensemaya is based on a Cuban poem which evokes a ritual Afro-Caribbean chant that's performed while killing a snake. Dudamel has called it a "Latin Rites of Spring", with music harking back to the Aztecs and Mayas.
Sensemaya was originally scored in 1938 for a chamber ensemble but a year later was reworked a for a full symphony orchestra with no fewer than 27 wind instruments and 14 percussion instruments. As you'll hear, it's full of moving parts...
It's maybe worth explaining a bit more about Silvestre Revueltas. He was very much a Bohemian character who had a short life and a very short career as a composer. He studied music at the National Conservatory in Mexico City and at university in Texas. At a young age he became assistant conductor of the National Symphony Orchestra of Mexico.
I've read of him being described as the "great free spirit of Mexican music" and as a "Mexican Bela Bartok". He wrote orchestral and chamber works, ballets, film scores and songs. Aaron Copland, who knew him, once said, "When seized with the creative urge, he has been known to spend days on end without food or sleep until the piece finished."
Revueltas went to Spain during the civil war there, in support of the Republican cause. After he returned to Mexico, he became prone to depression and self-doubt, and towards the end of his life he fell into poverty. In October 1940, one of his ballets was premiered in Mexico City. Instead of attending, he spent the evening drinking in his apartment and then headed out inadequately dressed for the cold weather. He was already suffering from bronchial pneumonia and this just worsened his condition. On his way back home, he suffered a bronchial attack and was taken to a hospital, where he died, aged just 40, of pneumonia compounded by alcoholism.
Pablo Neruda wrote a beautiful poem in his memory that he read at the funeral.
Revueltas was hard-living and self-destructive and he was certainly a character. Another character, in a very different way, was the Brazilian Heitor Villa-Lobos, who is the South American classical composer who is best known on the Continent.
He was born in 1887 and died in 1959. He was a prolific composer who wrote more than 2,000 orchestral, chamber and vocal works, often without the benefit of any sort of quality-control mechanism.
His work was initially attacked for its dissonance and modernity, but he persisted in his efforts to merge Western classical and Brazilian folk music. The pianist Artur Rubinstein did much to advance his reputation by performing his music throughout the world.
Villa-Lobos was largely self-taught. "I learned music from a bird in the jungles of Brazil, not from academies," he once said. He was a larger-than-life character who wore gaudy shirts and chain-smoked large cigars. He once famously conducted using not a baton but a Brazilian flag and in 1930 was appointed director of musical education for the government.
The Bachianas Brasileiras (Brazilian Bach pieces) is a remarkable work composed over 15 years from 1930. It's a series of nine very diverse suites, each of two or more movements, written for various combinations of instruments and voices that together portray Brazil in music. You are going to hear a piece called Toccata: o Trenzinho do Caipira (Toccata: The Peasant's Little Train).
It's the fourth and final movement from his second suite, and is what it says on the tin, starting with the sound of an accelerating steam train which then progresses through the countryside with a cheerful load of passengers. The tempo gradually slackens, with gushes of steam as the train glides into the station.
Next comes another short piece from Brazil. It's Dança Brasileira or Brazilian Dance, written in 1941 by the magnificently named Mozart Camargo Guarnieri, who was born in Sao Paolo in 1904 and died in 1994.
When he began his musical career he decided that his Christian name was too pretentious and so he adopted his mother's maiden name of Camargo.
He studied at the Sao Paulo Conservatory, and in later life became its director, as well as conductor of the São Paulo Orchestra. He is considered to be the most important Brazilian composer after Heitor Villa-Lobos.
From Brazil we'll now travel to Venezuela and a piece called Fuga Con Pajarillo, written in 1990 by Aldemaro Romero. A pajarillo is a dance like a waltz and it was with this piece that Dudamel won the inaugural Gustav Mahler Conducting Competition in 2004.
Romero, who died 10 years ago, founded the Caracas Philharmonic Orchestra and guest conducted the London Symphony Orchestra, the English Chamber Orchestra and the Royal Philharmonic Orchestra, among others. He was also a prolific composer, who started working as pianist in saloons and for dance orchestras in Caracas but later worked in the USA, where he collaborated with, of all people, Dean Martin and Jerry Lee Lewis.
I'd now like you to hear something that's unmistakingly Latin American. In fact, it couldn't be anything other than Argentinian, for it's a tango, called Libertango, written in 1976 by Astor Piazolla.
Piazzola, who was born in 1921 and died in 1992, revolutionised traditional tango to incorporate elements from jazz and classical music. He regularly performed his own compositions with a variety of ensembles. His nuevo tango style didn't go down well with Argentina's military government at the time, but it's since become accepted in Argentina and is played worldwide. In fact, I recently discovered that this piece, Libertango, has become the 'go-to' tango on Strictly.
The cellist in this recording is Yo-Yo Ma.
Let's now listen to some guitar music. You'll know that the guitar is a prominent instrument in Latin American music and one of its greatest proponents was a Paraguayan, Agustin Barrios Mangoré, who lived from 1885 to 1944 and was known as "the Paganini of the guitar".
Barrios was a native Guarani, the indigenous people of Paraguay, and he sometimes performed under the pseudonym of Chief Nitsuga Mangoré (Nitsuga being Agustín spelled backwards) wearing native costume with a feather headdress.
The Australian guitarist John Williams once said of him: "As a guitarist/composer, Barrios is the best of the lot, regardless of era. His music is better formed, it's more poetic, it's more everything!"
His most famous piece is La Catedral, which he wrote in 1921 and which was inspired by both Bach and a religious experience Barrios had. The movement you'll hear apparently reflects the process of leaving a cathedral and going back out into the "hustle and bustle" of the street. "Music is the word of God," Barrios once said. Here is the allegre solemne from La Catedral.
The next piece is from Venezuela and is by Inocente Carreño, who died at the age of 96 just a few years ago.
Carreño studied at the Venezuelan National School of Music and taught music at a school in Caracas. He was a horn player and choirmaster for the Venezuelan Symphony Orchestra, which he also sometimes conducted.
The piece you are about to hear is called Margariteña, a sprawling work for orchestra written in 1954. Margarita, incidentally, is the name of the island on which Carreno was born. Margariteña has been described as a Venezuelan rhapsody, in that it weaves together popular tunes of the time.
This again is performed by the Simon Bolivar Youth Orchestra, under Gustavo Dudamel.
We'll now go back to Argentina for the next two short pieces, which I'll play one after the other.
They are by Alberto Ginastera, who was born in 1916 in Buenos Aires and died in 1983. Ginastera, who is now considered one of the premiere 20th century classical composers of the Americas, studied briefly with Aaron Copland and taught Astor Piazzolla, whose tango you heard before the break.
The first piece is called Los Peones De Hacienda, which in this context means something like the "farm workers", and Ginastera wrote it in 1941 for his ballet, Estancia, which helped to popularise the life and work of Argentina's very own cowboys, the Gauchos. You may note strong overtones of Copland's work. The second piece is a solo piano work, La Danza de La Moza Donosa, or "Dance of the Beautiful Maiden". It's a gentle little dance written in 1937 and here it's being played by Daniel Barenboim.
I can't ignore Barenboim in this programme for he is arguably the best-known classical musician to come out of Latin America.
Though he is now an Israeli, Barenboim was born in 1942 in Buenos Aires to Argentinian-Jewish parents and moved to Israel with his family when he was 10, just over three years after the state of Israel was founded. He is, of course, now one of the world's top conductors but he still occasionally returns to music from the country of his birth.
First, Los Peones De Hacienda, again played by the Simon Bolivar Youth Orchestra.
Next, I would like to return to Mexico and let you hear something by one of the country's best-known composers, Arturo Marquez, and the piece of classical music from Latin America that is now most played in Europe, Danzon No. 2.
Danzón is the official musical genre and dance of Cuba but it is also popular in Mexico and Puerto Rico. The danzón is a slow, formal dance requiring set footwork around syncopated beats, and incorporating elegant pauses while the couples stand listening to virtuoso instrumental passages.
You are going to hear the best-known of a series of danzones written by Marquez, who was born in 1950 and who still lives with his family in Mexico City.
Márquez's father was a mariachi musician and his paternal grandfather a folk musician. He started composing at the age of 16 and then attended the Mexican Music Conservatory and was later awarded a Fulbright Scholarship to study composition in California.
Danzón No. 2 was included on the programme of the Simon Bolívar Youth Orchestra conducted by Gustavo Dudamel on their 2007 tour of Europe and the United States.
I'd like to return to where this programme started, in Mexico, with two pieces by Manuel Ponce, who was a great scholar of Mexican music who lived from 1882 to 1948. He was very much a musical prodigy who studied at Mexico's National Conservatory and later in Italy and Germany.
I'll start with his Intermezzo No.1, a gentle little piano piece played here by Alvaro Cendoya, and follow that up with Estrellita, one of his best-known works. It's been rescored a great many times over the years, and has been played by any number of instruments. Here, you'll hear the voice of Placido Domingo and the singing of Itzhak Perlman's violin.
First, though, Intermezzo No. 1.
Finally, how about a piece that isn't Latin American at all, as it was written by Leonard Bernstein. Mambo, from West Side Story, is a Cuban-inspired dance. In the musical, the Jets and the Sharks demonstrate their energy by dancing to the up-beat Latin-Jazz rhythms of Mambo. Here, we're back with the Simon Bolivar Youth Orchestra of Venezuela.
Featured composers:
Featured genres:
Latin America playlist
Each Spotify track has been chosen specifically; however, the corresponding YouTube videos may be performed by different orchestras.