Opera composers' non-operatic works
Think of some of the great operatic composers: Verdi, Puccini, Rossini, et al. We can all name their operas but they did write other stuff, didn't they? I thought I would put together a programme about that "other stuff" and I'll start with some music that came as a complete surprise to me.
Having heard that music did you have to do a double take? And did you want to stop the recording after a few seconds? I did. That four-hand polonaise was written by the same person who wrote The Ring Cycle. I honestly had no idea Wagner produced that kind of thing. Wagner was introduced to music as a boy when he took some piano lessons and he wrote a number of works for the instrument, particularly in his early years. Wagner's early piano pieces were never popular but I thought I'd take this chance to let you hear some more.
This is Albumblatt fur Ernst Benedikt Kietz, written by a 27-year-old Wagner in 1840. I think it's almost chokingly sentimental, not at all like anything you might associate with Wagner.
I'll come back to Wagner later but first I thought I'd explore some other operatic composers' "other work", beginning with Giacomo Puccini. What did he produce other than La Boheme, Turandot, Madama Butterfly, Tosca and so on? His Requiem is definitely worth spending some time on but try this out…
That beautiful adagio – Adagetto in F Major – was written around 1883, when Puccini was 25.
Now, let's hear a piece for string orchestra called I Crisantemi, The Chrysanthemums, which Puccini wrote in one night in 1890, originally for a string quartet. This is a single-movement elegy, written in response to the sudden death of a friend. I find it a moving lament and here Antonio Pappano conducting the London Symphony Orchestra seems to bring out all that is mournful in it.
You won't be surprised to learn that much of today's music is by Italian opera composers, and the next piece is by one of the greatest. Besides La Traviata, Il Trovatore, Rigoletto, Aida, Macbeth and so on, what else did Giuseppe Verdi's write? Well, not much. His Requiem is well known but he composed only a handful of instrumental, orchestral and chamber works. He also wrote a requiem mass in memory of Alessandro Manzoni, a poet and philosopher who, like Verdi himself, was one of the heroes of the Italian risorgimento. I have chosen two pieces from the Requiem, the Recordare, and then the better-known and very in-your-face Dies Irae.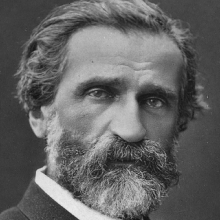 Before we leave Verdi, let's hear one of his piano works, Romanza senza parole, written in 1844.
Domenico Gaetano Maria Donizetti was, with Bellini and Rossini, the leading composer of bel canto opera in the first half of the 19th century. He wrote around 70 operas, including Anna Bolena, Lucia di Lamermoor and Maria Stuardi. He surely didn't have time to write in other genres, did he? Well, yes, he wrote a great deal more, including lots of piano music, quite a bit of both sacred and chamber music and sonatas and concerti for various instruments
Here's the beginning of his Clarinet Concerto, written in 1922, when he was 25.
One composer in this programme did write a lot of non-operatic work although most people know him for only one opera. No, actually, they know him for only one piece from one opera. When Pietro Mascagni wrote his Intermezzo from the opera Cavalleria rusticana he surely couldn't have known that it would consign all his other works to something near obscurity. But he wrote much, much more, including this short piece, Sulle rive di Chiaia.
I mentioned Rossini in connection with Donizetti and the next few pieces are by that composer. Rossini was extremely prolific. Besides operas such as Il barbiere di Sivignlia, Guillaume Tell, Otello and La gazza ladra, he produced a great deal of instrumental and sacred music.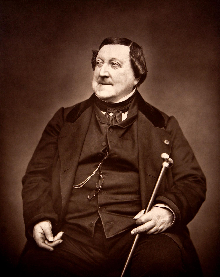 In the summer of 1804, when he was just 12 years old, Rossini wrote six string sonatas. He had hardly begun to study music in any meaningful way at this stage and yet these pieces have been said to be of greater stature than anything Mozart produced at that age. Let's hear the very agreeable opening to his Sonata for Strings No. 1. After that, try the third movement of his Sonata for Strings No. 2.
That was by a composer at the very beginning of his career. Now I want you to hear a piece by the same composer at the end of his career. From 1857 to shortly before his death in 1868 at the age of 76 Rossini wrote a collection of vocal, chamber and solo piano pieces which he called his Péchés de Vieillesse, or Sins of Old Age. These works come in 14 volumes and the next piece comes from the last of them.
The next piece also comes from Rossini's Péchés de Vieillesse. This is an Allegretto in G minor from Book 12, Quelques riens pour album, Some Nothings.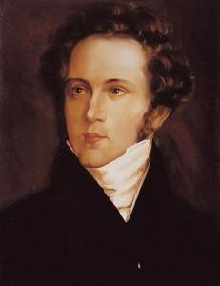 Earlier, I mentioned Bellini, an early 19th century composer of bel canto operas such as Il pirate and Norma. He didn't get much time to write a great deal – he died aged 33 – but he did produce this, which is from his Oboe Concerto.
I've featured quite a number of composers in this programme, all of them Italian except one, and it's to that one that I want to return.
Before I started researching this programme I honestly couldn't name a single piece of music by Richard Wagner other than his operas. Perhaps it's not surprising. Wagner gave his operas everything and many of his non-operatic numbers were left uncompleted and some have been lost.
I certainly didn't know about his symphonic work. Wagner completed only one symphony, his Symphony in C Major, in 1832. A couple of years later he finished the first movement of a Symphony in E Major but never got round to wrapping it up. Later in life, he drafted sketches for at least two other symphonies; again, they were never completed.
So let's hear something from his one completed symphony. This is the finale of his C Major Symphony.
Wagner bashed out that symphony in just six weeks. He was just 20 at the time and I think the symphony shows the influence of Beethoven and a later Mozart. Although it was a student work, Wagner retained something of a soft spot for it.
Let's now hear another piece by Wagner, Albumblatt (in das Album Furstin Metternich), a piano solo which dates from 1861. Wagner wrote a number of quite attractive short piano pieces late in his career, all dedicated to attractive titled women – this one to the Princess Metternich.
I want to conclude this programme by returning to Puccini and his Preludio Sinfonico. The composer wrote this, his second orchestral work, in 1822, when he was wrapping up his studies at the Milan Conservatory. There's a hint of Wagner in this piece, which I think explained why it wasn't particularly well received at the time. However, I think it shows his mastery of symphonic writing, coupled with the knack for melody that was to remain a feature of his work.
Featured composers:
Featured genres:
Opera composers' non-operatic works playlist
Each Spotify track has been chosen specifically; however, the corresponding YouTube videos may be performed by different orchestras.