Ottorino Respighi
I recently opened a programme I did about the triangle with a piece that began with a triangle: the first movement of Ottorino Respighi's The Fountains of Rome.
When I was researching that programme I checked on the orchestration for The Fountains of Rome and then found myself doing the same of his The Pines of Rome. It struck me as odd that among the instruments listed for the third of the four movements of this tone poem was a gramophone. That got me thinking: could I do a programme about music that features unusual instruments. Well, I could, and I may well do so one day.
But instead, listening to The Pines of Rome prompted me to take in more of Respighi's music, and that encouraged me to do a programme on his life and work instead.
Putting this programme together has been a real joy for me. I find Respighi to be a thoughtful, intelligent composer whose music deserves more attention than it gets.
Let's start this programme, though, with the music that features the gramophone. The Pines of Rome is one-third of Respighi's Roman trilogy of tone poems set in the Eternal City. The first was The Fountains of Rome, which was written in 1916 and was Respighi's first great success. Each of its four movements depicts one of Rome's fountains at a different time of day. The last in the trilogy was Roman Festival, which was written in 1928 and which depicts scenes of celebration from modern or ancient Rome. In between the two came The Pines of Rome, written in 1924 and depicting pine trees in four locations in Rome, again at different times of the day.
And so we have a movement called Pines of the Villa Borghese and the Pines near a Catacomb. The third movement is a nocturne he called I Pini del Giancolo, The Pines of the Janiculum, in which he depicts the full moon shining on the pines that grow on that particular hill in Rome – by the way, Janiculum Hill wasn't one of the seven hills of ancient Rome.
You most probably know another of Respighi's great works, Gli Uccelli, The Birds. I'll tell you more about that later but I think it does reflect a child-like fascination had for birds, and Respighi also uses a bird, a nightingale, in The Pines of the Janiculum. The American Academy in Rome is a research and arts institution based on the Janiculum and in the yard of one of its buildings someone recorded a nightingale singing at Respighi's behest. The sound was recorded onto a phonograph and Respighi asked in the score that it be played at the end of the movement. Actually, the original score refers to a Brunswick Panatrope record player.
Here, them is the third movement of Respighi's The Pines of Rome, complete with nightingale.
Let me now tell you a wee bit about Respighi, the leading Italian composer of the 20th century and one of the few Italian composers who isn't best known for his operas – although he did write eight and a bit operas.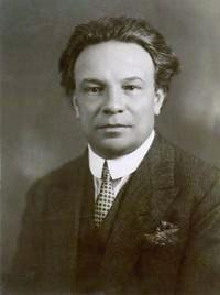 Respighi was born in 1879 in Bologna, a city I've been to a few times over the years. He came from a musical family – his father was a piano teacher and his grandparents were musicians. He studied violin, viola and composition in Bologna, and then went to St Petersburg where he became principal violist of the Russian Imperial Theatre and studied for a while under Rimsky-Korsakov, which in part explains his genius for orchestration.
With Rimsky-Korsakov's guidance he wrote his first advanced work, Preludio, Chorale e Fuga, which was premiered to a great reception in 1901.
From now on the music in this programme will be in chronological order and next comes a beautiful piece, the nocturne from Respighi's Six Pieces for Piano, composed in 1903. The pianist is Anna Gourani, from Russia.
From Russia Respighi went to Berlin, studied with Bruch and became first violinist in a quintet. He continued to perform and to write until 1913 when he went to Rome to become Professor of Composition at the Liceo Musicale di Santa Cecilia. From now on he was a professional composer.
He was uncomfortable in Rome, though he later grew to love the place, but it was there that he met his future wife, Elsa, who was 14 years younger than him and whom he married in 1919. A composer and mezzo-soprano, she and her husband performed together more than 300 times, and she championed Respighi's work long after he died in 1936. She wrote a biography of him that is so gushing that it should be taken with a pinch of salt. Elsa died as recently as 1996, a week short of her 102nd birthday.
The next piece was written in 1909. Respighi called his String Quartet in D Minor Ernst ist das Leben, heiter ist die Kunst, Life is serious, art is serene and that's a pretty good summation of how Respighi viewed things. He was, as I said earlier, an intelligent, thinking man. When he finally settled in Rome he filled his house with books, some 4,000 of them, which he catalogued and indexed. His books included an impressive catalogue of atlases and dictionaries, the latter underlining his amazing facility for learning languages. He became fluent in 11 languages and read literature in them all. Towards the end of his life, for example, he was studying Finnish.
He was occasionally prone to depression. He kept very regular habits. He would get out of bed at sunrise, whatever time that was, and go to bed at sunset. He had a persistent sleep problem and was prone to nodding off at the drop of a hat. For some reason, he always tried to sleep with his body on a north-south axis. He would compose only between November and March. He was never concerned about reviews.
O dear, I've digressed. Let's now hear the second movement of his String Quartet in D Minor.
So, where was I in his life story? I told you that he married in 1919. However, a couple of years before that came another major turning point in his life, the premiere of The Fountains of Rome. The intention had been that Arturo Toscanini, who was a big champion of Respighi's work, would conduct the premiere in 1916 but Respighi had included some of Wagner's music on the programme. With the First World War raging, this caused a major row and the premiere didn't take place until the following year.
Let's hear the second movement of The Fountains of Rome. This is The Triton Fountain in the Morning. It really is a musical reflection of Bellini's fountain in the Piazza Barberini, with nymphs and tritons pursuing each other and dancing in the spray of the fountain.
The year of that piece's premiere also saw the premiere of another of Respighi's great works. One of Respighi's particular interests, even from his earliest years as a composer, was music from the 16th, 17th and 18th century. In 1912, for example, he wrote a set of six transcriptions for voice and piano of music by little-known Italian composers of that era: Bernardo Pasquini, Benedetto Marcello and Baldassare Galuppi, simply calling this collection Ancient Love Songs.
But 1917 saw the premiere of a work that was to become much better known, the first suite of his Ancient Airs and Dances. He wrote three of these suites, transcriptions of original pieces for lute. The first suite of four pieces includes this one, a transcription of a ballet work, I Conte Orlando, by Simone Molinaro.
The work on which that music was based was written in 1599, which illustrates why it's historically wrong to label _Ancient Airs and Dances _as neoclassical music: neoRenaissance or newBaroque would be more accurate.
Respighi wrote another Ancient Airs and Dances Suite in 1923 and a third in 1931. The last of these suites differed from the other two. It's arranged for strings only and is much more melancholy.
In 1921 Respighi and his wife moved to a flat in the Palazzo Borghese in Rome, and called their new home I Pini, The Pines. The following year, Mussolini came to power. The dictator was to become a great fan of Respighi, and this link with Fascism certainly tainted the composer's reputation. He was a member of the fascist organisation Reale Accademia d'Italia. he collaborated with the nationalistic poet D'Annunzio and some of his work, particularly his Roman trilogy, is seen as fascist propaganda. However, I think Respighi was no more a Fascist than, say, Shostakovich was a Communist. He was Italian, and proud of it, but Italian governments after the fall of Mussolini lumped Respighi together with openly Fascist composers such as Malpiero and Mascagni. As recently as 1979, attempts were made by some politicians to thwart plans to mark the centenary of Respighi's birth because of his supposed Fascist sympathies. They were all wrong. Respighi did or said nothing to suggest that he had right-wing inclinations. Like Shostakovich, as a musician he was born in the wrong place and at the wrong time. Politically, he was completely neutral.
Let's have some more music now, and a beautiful piece it is too. This is Adagio con Variazioni, written for cello and orchestra in 1921.
After that lovely music I now have a real shock to the system for you. In 1925 Respighi wrote transcriptions of four Scottish airs: Wen the Key come Hame, Within a Mile of Edinburgh, My Heart in the Highlands and The Piper of Dundee.
This is Within a Mile of Edinburgh. In each of these Scottish airs Respighi adds a markedly original piano accompaniment. The singer here is Monica Bacelli, and she displays a fairly credible Scottish accent in these songs.
The next piece is one of my favourites in today's programme, Respighi's Poema autunnale for violin and orchestra, written in 1925. Its premiere a few years later wasn't particularly successful, leading Respighi himself to be a bit disdainful of the work. Let's see what you think of it and see if you agree with me that it's quite reminiscent of Vaughan Williams' The Lark Ascending, which was written 11 years earlier although it's thought that Respighi did not know of that work. Respighi had in mind evoking what he called the "sweet melancholy" of an autumn day. Towards the end he tries to evoke the god Pan "wandering lonely across the fields under falling golden leaves". Rather than have the woodwinds evoke Pan's pipes, Respighi allotted this task to the solo violin.
Let's return to Scotland now and some pretty little piano pieces, two of six pieces for piano 4 hands composed in 1926. This is Cantilena scozzesi, followed by Piccoli Highlanders, Little Highlanders.
A year after he wrote those little pieces Respighi composed another of his compilations that drew inspirations from Italy's past. Go to the Uffizi Gallery in Florence and you won't want to miss the Botticelli Triptych, three paintings by the Renaissance master. In 1927 Respighi wrote Trittico Botticelliano, which drew inspiration from these three paintings. And so we have Spring, The Adoration of the Magi and The Birth of Venus.
Here is the first movement, La Primavera, Spring, which features a medieval troubadour song.
There is so much of Respighi's music I would like to feature but don't have the capacity here. He wrote a great deal, and wrote it very well, of music for voice; he wrote ballets and operas, and collaborated with Diaghilev.
Respighi liked to travel, occasionally to the United States, in 1927 to Brazil and in 1934 to Argentina and Uruguay. In May 1935 he had to cancel several arrangements due to ill health, including a scheduled trip to conduct a series of concerts at the Hollywood Bowl in Los Angeles. By the end of that year he became ill with fever and fatigue. He had blood poisoning and, despite three blood transfusions and some experimental treatment, he died on 18th April 1936.
I want to conclude today's programme with something from a work I mentioned in the first video, Gli Ucceli, The Birds. Respighi wrote The Birds in 1928, and like so much of his work it is based on music from the 17th and 18th century. It's an attempt to make music of bird sounds or actions, such as fluttering wings or scratching feet.
After the familiar Prelude there are movements are called The Dove, The Hen, the Cuckoo and the one I have chosen, The Nightingale. Respighi based it on a piece of the same name written for solo recorder by the 17th century Dutch musician Jacob van Eyck. Let's first hear that piece.
Now, we'll hear The Nightingale, the fourth of five movements from The Birds.
I think those two pieces perfectly illustrates the amazing facility that Respighi had for transforming early music into something that sits comfortably in the 20th century. I said earlier that, in terms of Italian politics, Respighi was probably born in the wrong place at the wrong time. I think the same could be said of him musically. He was born too late to be an out-and-out Romantic composer and too early to be a modernist. And so, as you have heard, he took comfort in music that was from another era, another century, entirely. And I for one am grateful for that.
Featured composers:
Featured genres:
Ottorino Respighi playlist
Each Spotify track has been chosen specifically; however, the corresponding YouTube videos may be performed by different orchestras.