Samuel Barber
According to one critic writing of Samuel Barber, "probably no other American composer has ever enjoyed such early, such persistent and such long-lasting acclaim".
He is known the world over for his Adagio for Strings but there is more – much, much more – to him than that.
Samuel Osborne Barber was born in 1910 in a place called West Chester, Pennsylvania into a comfortable family. His mother was a pianist, his father an affable, community-minded physician, his aunt a leading contralto at the Metropolitan Opera and his uncle a composer.
He was very interested in music at an early age. One source has him "making up tunes on the piano" at the age of two. He began studying the piano when he was six and composed his first complete work a year later.
Despite his interest in music, his family wanted him to become a typical, athletic, American boy. This meant particular interest in his playing football. However, when he was nine he wrote to his mother: "I have written this to tell you my worrying secret. Now don't cry when you read it because it is neither yours nor my fault. I suppose I will have to tell it now without any nonsense. To begin with I was not meant to be an athlete. I was meant to be a composer, and will be I'm sure. I'll ask you one more thing.—Don't ask me to try to forget this unpleasant thing and go play football.—Please—Sometimes I've been worrying about this so much that it makes me mad."
In view of his later personal life, there are those who have read between the lines of that letter.
Barber had a go at writing an opera, The Rose Tree, when he was 10, and when he was 12 he became organist at his local church. Two years later, he went to music school and quickly gained a reputation as a fine composer for voice and piano. It's said that at music school he was "gawky, musically overdeveloped with round eyeglasses and middle-parted hair. The boy seems to have sprung from the womb already an adult."
He wrote a violin sonata, which was subsequently lost, when he was 18 and throughout his 20s he produced a flurry of compositions. In fact, Barber never had a regular job, either to earn extra money or to further his professional career. Unlike most composers, he did nothing but compose: no significant writing apart from his letters; no lectures; a few recitals when young; only a handful of conducting gigs; and two years teaching orchestration at his old music school, which he later said he hated. All he wanted was to write music, and he had the financial means and talent to do so.
I thought I would do this presentation chronologically but for two pieces, the first of which you will hear now. Barber was a fine baritone singer, and was particularly good at writing for the voice. In fact, he was probably at his most romantic and expressive best when writing songs. You are going to hear something from his vast choral output, To be Sung on the Water, which was published in 1969, 11 years before Barber died. The words are a poem by the American Poet Laureate Louise Bogan. You will hear two sections of the choir, in this case an American choir called Conspirare, who in this piece never sing anything together. There's a distance between them and the song ends in a melancholy that I find quite touching.
We can't ignore Barber's Adagio for Strings, which you'll hear now. It's actually an arrangement from the second movement of his String Quartet, Opus 11, which he completed in 1936.
In January 1938, when Barber was 28, he sent an orchestrated version to Toscanini, who returned the score without comment, which annoyed Barber. Toscanini then sent word that he was planning to perform the piece and had returned it simply because he had already memorised it. It's been claimed that Toscanini did not look at the music again until the day before the premiere. At the end of the first rehearsal of the piece, Toscanini remarked, "Semplice e bella" (simple and beautiful). Well put!
On 5th November 1938, a selected audience was invited to the Rockefeller Center to watch Toscanini conduct the NBC Symphony Orchestra. It was a radio broadcast which was also recorded. And you are going to hear that very first performance.
Before you do, I thought I'd talk a bit about tempo, something I touched on a few weeks ago. You may have read a while ago a news story about research which showed that performances of classical music are speeding up and are now one third quicker than they were 50 years ago.
There was a letter in The Times on the subject. It read:
Sir, I have noticed this growing trend of the acceleration of classical music. I assume its basic cause is a growing technical proficiency on the part of young players. They play faster than previous generations because they can. Unfortunately this often robs baroque music of its emotional gravity and rhythmic force. Recent performances of Bach's orchestral suites tend to become merely skittish, and his violin concertos are thrown off as if they were Mendelssohn scherzos. How does this satisfy the so-called search for authenticity?
The premiere of Barber's Adagio for Strings, which you are about to hear, was 7:05 long. I think as the years have gone by the piece has gained status as the saddest music ever written, and conductors have tried to eke every ounce of pathos out of it.
For example, I have found a new recording of Marin Alsop conducting the RSNO in 7:46; a 2016 recording with Joseph Swenson conducting the Malmo Opera Orchestra which took 8:51, and a 1964 recording by Leonard Bernstein and the New York Phil which last just short of 10 minutes.
I'd like you to listen to the opening of that Bernstein recording and then I will play, in full, the premiere of Adagio for Strings with Toscanini conducting.
There, that should have put a spring in your step.
Right, let's start putting some chronology in this. Barber's first orchestral work was an overture to the classic comic play School for Scandal, written by Richard Brinsley Sheridan in 1777. Barber wrote the music in 1931, when he was 21, and it was premiered two years later. It made Barber's name and set the template for his style, which was distinctive and modern but rarely experimental.
This piece, Barber said, was meant as a "musical reflection of the play's spirit", which is full of intrigue, gossiping and scandal. Let's hear it performed by the St Louis Symphony Orchestra under Leonard Slatkin.
After Adagio for Strings came a number of works in quick succession, including the first of his three Essays for Orchestra, which he wrote in 1937 and which was premiered by Toscanini at the Adagio for Strings premiere. Here, this one-movement piece is performed by the RSNO under Marin Alsop.
You have heard a few orchestral pieces so I thought I would now let you hear another song by Barber, Sure on this Shining Light, one of a set of four written in 1938.
There's an anecdote about this song. In 1979, Barber had just taken a new apartment in New York and wanted to call his partner, Gian Carlo Menotti, at the apartment. However, on trying to dial the number from the telephone booth, Barber realised that he couldn't remember the newly-established phone number. So he called the operator for assistance. She refused to provide him with the number because she doubted his identity, but then confessed that she had a weakness for Sure on this Shining Night. She asked Barber to sing the song's opening phrase to confirm his identity. He did so and was rewarded with his telephone number!
Before you hear it, just a word about Menotti. He was born in Italy and later settled in America, though he always retained his Italian citizenship. He was a composer and librettist and twice a Pulitzer prize-winner and he became Barber's partner in life and work. He moved to Gifford in East Lothian in 1974, and that's where he's buried, even though he died in Monte Carlo.
This, then, is Sure on this Shining Night, performed by the Birmingham Conservatoire Chamber Choir.
Samuel Barber was one of many American composers who wrote music for the war effort during World War Two, but he was one of a few who was enlisted. He was drafted into the Army Air Corps in 1942, by which time he was already well known as a composer. He wrote a handful of pieces for armed forces, generally updating the traditional Sousa march form with an updated more modern style.
This is one of those pieces, Commando March, written in 1943. It's performed by the US Marine Band and I thought I would feature it out of interest rather than for whatever musical merits it has.
Barber's duties in the armed forces were clerical, but he was given a lot of support by his commanding officers to write music. He was commissioned in 1943 by the US Air Force to write a "symphonic work about flyers", "which turned into his Second Symphony. For that work, Barber flew on training missions on the B-24 Liberator.
I'd now like you to hear something from Barber's Capricorn Concerto, a work written in 1944 and named after the house he and his partner bought in a village in New York State. It's a composition for flute, oboe, trumpet and strings and was the last piece he wrote before being discharged from military duty. He had been assigned to the Office of War Information in New York City, allowing him to work in his new home in Mount Kisco, New York State. This is the third movement, and the RSNO under Marin Alsop.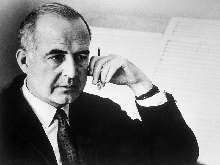 Before you hear more music, let me tell you more about Barber.
He was truly cultivated, with an encyclopedic knowledge of art, literature, music, and more than a few other subjects. Fluent in languages, he read Proust in French, Goethe in German, Dante and, for some reason, Moby Dick, in Italian. He had a passion for Celtic, particularly Irish, literature and was a great admirer of Yeats and Joyce. He was an art, theatre and film critic, was well-versed in art history and did a bit of painting himself. He was also a trained singer and had a fine baritone voice. His relationship with other composers such as Aaron Copland and Leonard Bernstein was generally polite but occasionally awkward.
Right, you've heard Adagio for Strings and I hesitated before choosing another adagio, but I couldn't resist featuring the second movement of his Violin Concerto. We're going back in time a bit now. Barber wrote this concerto in 1939, having been commissioned by an American industrialist, Samuel Simeon Fels, like our friend Jill a soap manufacturer. Fels was a wealthy man, and a demanding one, too. Far from letting Barber compose at a distance he gave continued feedback on what he did and didn't like. At first, the work was too simplistic. Barber's solution was to add a fiendishly challenging finale. Fels responded that it had become too complex. Back and forth they went, the composer duly making changes against his wishes – presumably because he knew that a worthwhile pay cheque awaited him.
Today, it's the soulful middle movement of the concerto that guarantees its popularity. The violin seems at times to be almost wrestling with the orchestra, before reaching a position of serene contentment – only to find itself wrought in conflict again.
Actually, rather than let you hear just the second movement, here's all three movements. This is the Boston Symphony Orchestra and the violinist is Itzhak Perlman.
Next up is Barber's Opus 20, a short piece called Excursions, premiered in 1945 by Vladimir Horowitz. It was actually Barber's first solo piano composition and his first excursion into what might be called Americana. You are going to hear the first of four movements, which is clearly Blues-influenced and is very 'boogie-woogie' in style.
Barber wrote a great deal in the years after the war, including an opera, Vanessa, with the libretto by his partner. This is one of the best-known arias from Vanessa, Must the Winter Come So Soon. It's performed by Frederica von Stade with the Metropolitan Opera Orchestra.
In 1958, Barber was awarded a Pulitzer Prize and four years later, following the success of his Piano Concerto, which was premiered in 1962, he got another one. Let's hear the finale of the Piano Concerto, and Stephan Prustmas playing with the RSNO under Marin Alsop.
Barber's opera Antony and Cleopatra was premiered in 1966. However, there followed a period of inactivity. Antony and Cleopatra wasn't well received, and Barber suffered from depression and alcoholism. He resumed composing in 1971 when he accepted a commission which led to his work The Lovers, written for solo baritone, a mixed chorus of 200 voices and full orchestra. Here's something from it, In the Hot Depth of This Summer.
Barber wrote his last major work, his Third Essay for Orchestra, in 1978. At around this time he was quite ill. He was diagnosed with multiple myeloma and had chemotherapy. He had a stroke in 1980 and the following year, at the age of 70, he died of cancer.
Featured composers:
Featured genres:
Samuel Barber playlist
Each Spotify track has been chosen specifically; however, the corresponding YouTube videos may be performed by different orchestras.